Computer Love
November 1, 2012
Computer Love

I logged on to my computer to see if HunnyBunny2094 was online. For months I had been tracking her every move. What chat rooms she visited, new pictures that were posted, who she talked to, what it was about. You know, try to get to know her. Without her knowing, of course.
"HunnyBunny2094 is now online"
The computer screen read. My heart was filled with joy. For the first time of my 46 years of existence, I was in love: computer love. I thumbs twiddled as I clicked "Chat now" next to her blonde haired, well sculptured face. I hope, just hope that she was into someone like me. I mean, not to say that I was some hermit that played World of War craft all day with a face full of zits. I was just a home-body. My face started to sweat as the computer screen read, "Now entering chat"
8:07
TheRayne89: Hey, how's it going?
8:09
HunnyBunny2094: Uh, Hey. I don't think I know you.
8:12
TheRayne89: That's the thing, you don't. But look, hear me out. I know you. Now, I know this sound weird, as ever but. Over the past few weeks, I've fallen in love with you.
8:13
HunnyBunny2094: …
8:15
TheRayne89: I know it's a lot to grasp right now, but maybe we could meet somewhere?
8:16
HunnyBunny2094: But, I don't think you understand…
8:18
TheRayne89: What? Understand what? Look, I understand your beauty and its entirety.
8:19
HunnyBunny2094:No, you don't understand
8:20
HunnyBunny2094: I am a man. My drag name is Hunny.
I was so shocked I couldn't even reply.
8:45
HunnyBunny2094: Well, by the long pause I can tell that you're straight. Thanks for the compliment.
In shame, I sat, in shock of how for that short moment, I was in love with a man.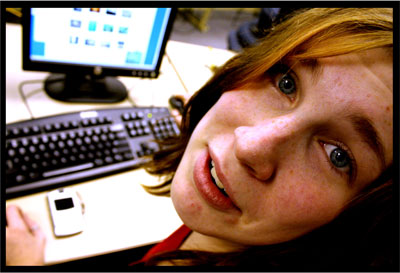 © Sam W., Bellevue, WA