round;
October 29, 2012
But I was never one to lie.
It's hard isn't it, learning how to feel around corners when your own eyesight sucks s***. But there isn't really any other way to learn how to do things properly, you tell yourself. Everyone is always afraid of everything, you never cared much for the banal passages of glory, you just wanted your own name to shine a little brighter amongst everyone else.
So f*** it, you say. Screw their bigoted selves. I've got nice suits and ties and I know how to use words. I'm set, and that's all I care for.
But this one's a little different. She looks like an idiot but when she said that she wasn't fond of your general existence, there was something cold in her eyes. A fire blizzard, self-immolation in the snow, you didn't know how that could be possible but it was there anyway, heat in the middle of the arctic. You tried to tell yourself it didn't matter, but when she walked away, you couldn't help but feeling the tiniest bit less than you were before.
Less, not less adjective, just less.
* * *
Circles are pretty terrifying shapes, you decide. They're endless, and you can see everything clearly from wherever you're at in the shape. Knowledge, awareness, it's scary, especially when all you've ever known are corners and dead ends.
Continuation. Never-ending-ness. It's awful.
She stumbles a little bit over her words and pauses for long um's, but she's not total s*** at it. She's actually okay, decent.
Afterwards, you say what any encouraging person should: "That was great." She laughs and dismisses it, she's one of those people who doesn't really think much of themselves. But when she looks at you again, she takes back her first impression, her damnable imprint. You can't help but smile a little.
Circles aren't so bad after all.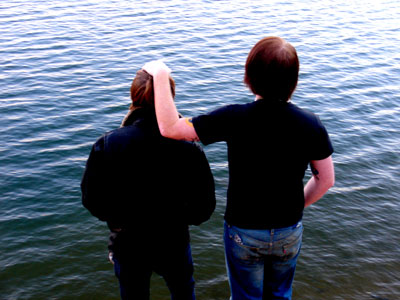 © Michelle B., Blairsville, GA