I Want To Be a Dancer
October 28, 2012
My hands were violently shaking as I grasp the faded red, worn out handle to the

outgoing mail slot. Taking one last deep breath, I let the envelope drop down into the

deep little bin disapearing quickly and quietly until the mailman comes around again.

I had finally worked up enough courage to send in my application to a well-known dance

academy based out west. It was the same dance school I had been training for my

life. I had already been rejected three times before. The last time was just this past fall.

Now, trying again, I felt just as nervous as I did the first time, if not even more. As I

turned to walk back to my apartment, I glanced back one last time to the mailbox three

inches behind me. Yep, defiantly the same as it was when I last looked not even twenty

seconds ago.


That night at my dinner for one, I thought of my odds. Thousands and thousands

of extremely talented dancers apply to this place, with only ten getting to go for a live

audition, from the auditions, only five people to get into the school. The odds were not

anywhere near to my favor. I was not going to get in, and that was final. I wasn't going

to be young forever, and continuesly aiming for acceptance to this school, would be

beyond pointless. I would either be invited to audition there this time, or I would move

on with my life, and met my mother have the satifaction of being right. Whatever my

destiny may be, I would know in just one weeks time. I would either be a dancer for the

San Fransisco Dancing for the Arts Girl Academy, or a normal nineteen year old going

to Community College. Only time will tell.


As I rolled myself out of my big, warm bed one week later, the anticipation was

eating me alive. "Did I make it? Or had I been rejected once again," I kept asking

myself. I had been continuesly staring out of my window for the mailman for the past

half hour, and still, absoulutly nothing. What if the mailman got kidnapped?! Or worse,

what if the entire world froze on the outside and I was the only one still alive?! I had

been so entranced by my thoughts that I hadn't even heard the mail get delivered just

down the stairs.


I sprinted out my front door in a barely passable robe and perched myself right

in front of my mailbox. In a few swift movements, the envelope I had been waiting for

landed into my hands. I quickly ripped open the paper surrounding my answer and read

aloud, " We regret to inform you that you will not be recieving the scholarship to study

with us for the Spring early admisions. Thank you for your participation." My heart sunk

as I read each word, and I already had tears in my eyes before I could finish the last

line. It was then I made the decision, I would not give up on my dreams of being a

proffesional dancer. That was final.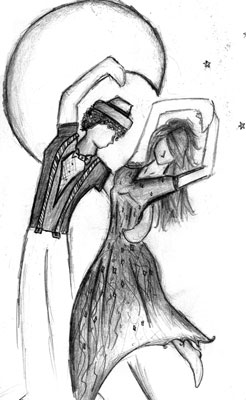 © Megan L., Everson, WA