The Refugee
October 27, 2012
I glared at her across the classroom. I don't know why she bugs me so much, but she does. I saw her wipe her eyes to try and hide the moisture there. I elbowed Cathy and pointed it out. She sniggered and whispered to the guy sitting next to her. I didn't take my eyes off that stupid girl. She pulled an envelope out of her pocket and stared at it until the bell went for break and she quickly stuffed it in her pocket and left.
Her name was Karima. She moved here a month ago. She's a refugee. Just when I see her I get angry. I can't control it. She just infuriates me so much. How she is so pathetic and how she always seems to be sniveling. If she is so unhappy here, why did she even come in the first place?
Cathy and I grabbed some food from the cafe and dumped our trays on our usual table. I looked around for Karima but I knew she wouldn't be here. I've never seen her eat. I know she goes to the Children's Home nearby, but I don't think they do lunchtime meals. She probably just hides away in her own little corner staring at whatever is in that crumpled old envelope.
I didn't think about her for the rest of the day until Cathy and I were early to p.e. and found her alone in the changing rooms. I ran up and snatched the envelope off her. She squeaked and tried to grab it back. I was a lot taller than her and it was easy to keep it out of her reach. Cathy giggled slightly.
It was a photograph from her home country. She was sitting in some sort of garden with what looked like her parents and two brothers. There was a letter with it. It was in a strange language.
"What the hell is this? Are you b****ing about us to your family?" She shook her head. She looked scared and I enjoyed having the power over her. "Read it and don't lie to us. I'll know if you do." I shoved her letter to her.
"I… I don't want to." She looked like she was going to cry again. I felt no sympathy, just more anger. How dare she try and hide stuff from me.
"You're so pathetic. You should be happy that you're here, you ungrateful little…" Cathy grabbed hold of her by the collar and she started trembling even more.
"Cathy. Let her read it." I handed the letter back to her. She shook her head while keeping her eyes lowered to avoid my stare. "Okay then." I took the photo and started to tear it.
"No! Okay, I'll read it." Tears came down her face and I waited. Karima sniffed and unfolded the letter. She paused and cleared her throat before she started to read. "Dear mama, I hope you are okay. It's really nice here. All the people are nice to me and very helpful. I see lots of other refugees here. They have given me a good place to live, with lots of other children that I can play with. I have made lots of new friends." Cathy snorted. Karima didn't even look up. "They have lots of pretty things here. Not just for the rich, there are pretty things for the poor too. I am having lots of fun here, but I still miss you. I hope to see you here soon or maybe I could come back home and we could be a family again. I still think about what happened to Duman, Gil and papa and it brings me to tears. I miss them so much. Lots of love, Karima." Her head was ducked and her cheeks were blushing slightly. I saw her body jump from the hiccups that came from all the crying she had done.
"Come on. This is boring let's just go. She's not worth it." Cathy was bored and was already nearly out the door. I didn't take my eyes of Karima or the photo. Their happy faces were smiling innocently up at me and I couldn't help wonder what happened to her brother and father.
"You go, I'll catch up." Cathy sighed and stormed out of the room. I handed the picture back to her and sat down next to her. She wiped her nose on her sleeve and tucked the photo back into the envelope. "You should put an address on that. I'm sure your mother will love to hear from you." This made her cry harder.
"I can't. I don't know where she is." She fiddled with the hem of her skirt and I felt a sudden twinge. This girl has really been suffering and all I've done is bullied her. "The Red Cross are looking for her, but…" She sobbed. I didn't know what to do. It would be too awkward for me to comfort her so I tried to stay stony.
"What happened to them, your brothers and your father?" She looked up at me. I saw something in her eyes, something I have never seen. I saw death. The sound of guns echoed in my head and my vision went blurry and red. It was enough to make tears run down my face. I have never seen a look that tortured and sad in my life. It affected me to my very soul. I didn't know if I could do what she was doing, leaving the rest of her family to come to somewhere she was safe, but unhappy, not knowing where her mother is and having no one. Would I leave my family if I were her? "I… I'm sorry."
I never looked at Karima the same way. She didn't annoy me anymore. I felt sorry for her, but I never brought up the courage to talk to her again. I was ashamed. I didn't feel like I deserved to talk to her the way I had been treating her. I think if I had talked to her, we could have been friends, but after that all we exchanged was a little smile if we saw each other in the corridors. I like to say that she changed me, that I no longer judged anyone without knowing their story. I will always remember that brave little refugee. Always.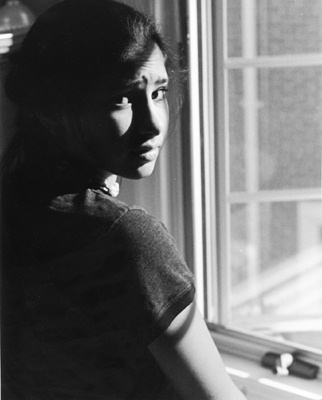 © Jennifer H., Bethesda, MD