Stone Cold
October 20, 2012
She wakes up everyday, hoping things will be different. She wakes up with tears in her eyes, she was dreaming of him again. She was dreaming that he was still beside her, wrapping his arms around her, stone cold, lifeless limbs. She knows he's never going to come back, he's not going to come back for her. And you know why? Because of her, he is dead. He's dead because of her and her stupidity, her ignorant choice, ruined everything, and ripped him away, like an old, used band-aid, now just discarded. She replays the painful memories, the screeching of the tires, his final, hopeless, fearful, scream as the car began spinning, violently out of control, crunching into a tree. His auburn hair falling over his beautiful face, his head facing forward. No breathing.
She must live with this forever, she must live without him forever.
She can feel more warm, burning tears roll down, her already tear stained check. Her cold, pale hand reaches up to wipe away the tears, the tears she will forever cry for him. Oh how she longs to see that little peace of heaven that was him. But never again. It would eat away at her until there was nothing left to eat...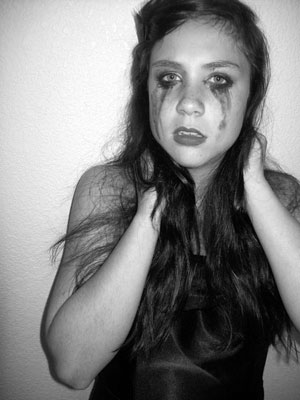 © Tiana D., Monument, CO