Sitting in the grass.
October 20, 2012
I sit with her in the dew-soaked grass, watch her tangle strands of hair with her fingers.

She looks so lost, so small. Her honey coloured hair hangs over her face, pale and thin and streaked with tears. I go to reach over, and push her hair behind her ears, but I stop. She needs to do this alone.

The grass tickles her waist when she sits down. She runs her hands through it, ripping the blades from the soil and letting them catch the wind.

It's colder today, frost has settled on the remaining leaves and she is wearing a scarf, wound around her neck like a serpent. Her breath escapes like mist, circling her face and lingering in the air around us.

The roses she has brought are lying at her feet, almost touching my shoes. They're beautiful, so small, so fragile. Like her.

She shuffles forwards, water seeping through the knees of her jeans, and I follow her.

Her delicate hand reaches forward and rests on the stone- smooth, cold marble. She traces the words with her finger, hovering over the name.

This must be so hard for her. It's hard for me too. A graveyard is a horrible place to be, especially now. I hate it here too, I hate bringing her here. But I have to.

I know it's time for her to go. I stand, and hold my hand out to her, willing her to take it. But she doesn't. She leans forwards, kisses the smooth stone, and places the roses on the ground.

She rises, so calmly, and I am so proud of her. But I see the tears rolling down her cheeks, the sobs she had been restraining,

I go to comfort her, but he is already there. He holds her, his hands in her hair, as she sobs.

"Why did she have to leave us Daddy? Why did mum have to go?"
He says nothing, but takes her hand and begins to lead her away.

I stand beside the gravestone, gazing at her beautiful roses. Watching him lead her away. I wrap my coat around me, and go to follow them.

But she stops, and walks back. Running her hand across the smooth curve of the stone, looking up to the sky, I turn to face her, and walk to the stone, resting my pale hand on the arch.

"I love you mum." she sobs, placing her hand on the surface.

"I know." I whisper, placing my hand next to hers.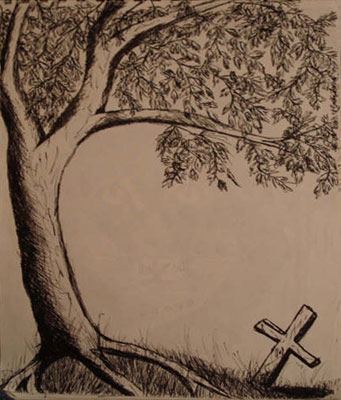 © Courtney K., Bethel Park, PA