Spiritus
October 18, 2012
I had been sick for most of my winter vacation. Of course, winter vacation doesn't make too much of a difference when you live in the middle of nowhere. Alright, I actually live about 20 miles away from town, but during the winter that 20 miles makes it seem like it is forever. As I was saying, winter vacation doesn't mean much when you're home schooled and constantly ahead in all of your subjects. I was sick a lot; so even if we hadn't lived outside of the nearest school district I probably would have been home schooled. It was a couple of days before New Year's Eve, and we were caught in the middle of a blizzard. I'd seen a lot of blizzards in my day and this was definitely not the worst. Ever since I was a little kid, I enjoyed stepping outside on the porch to watch the snow block out the world around you. I didn't mind the cold, bleakness as I stepped outside, in fact I was barefoot. I was only going to stay outside for a minute.


Suddenly, my dog, Spiritus, darted out the door. I do not remember stepping off the porch, or blindly running straight into the blizzard. I don't recall how far I ran screaming at the top of my lungs for my dog to come.


You might be asking yourself "why is this girl running into a blizzard for a dog". Let me explain; as most children do, I begged my parents for a puppy. By my twelfth birthday, I had proven myself responsible enough to own an animal. My parents and I went to the local no kill shelter to pick out my new companion. It took me all of five seconds to find him. He was cowering in a corner, making it obvious he'd been abused. I had to rescue him! My parents were concerned about him possibly being aggressive, but I wouldn't budge. Needless to say he came home with me. I, at the time, was taking basic Latin. Me being the romantic I am, named him Spiritus, which translates to Spirit in English. It didn't take long for Spiritus to warm up to me. He didn't take as quickly to my family. Eventually, Spiritus learned how to trust them too. Both my parents worked in town, so during the day Spiritus kept me company. He was there for me when I was sick, healthy, happy, or sad. He was loyal. By my thirteenth birthday we were beyond inseparable.


As I began to slow down, I started to notice the cold. My feet were numb, yet aching. In my head, I knew I should turn around and try to walk back home, but I couldn't see anything! For some unknown reason, I walked further. I must have hit a patch of ice, because I was walking one moment and lying on the ground the next. This is when it dawned on me, that I was wearing a thin, long sleeved shirt and sweats; Those are not clothes recommended for walking in the snow. I felt sudden pains shoot through my body, starting at my feet. I wasn't wearing shoes!!! How had I walked so far without my shoes on? The only possible answer is adrenaline. As the pain shot through my body, I couldn't move. I began to feel this nagging need to sleep. "Don't go to sleep" echoed in my head. I tried so hard to stay awake... eventually I couldn't resist anymore, I had to sleep.

For all I know, I was asleep for hours, when I felt a warm wetness on my face. The feeling was so familiar, but it took me a minute to realize it was Spiritus licking my face! I attempted to open my eyes, but they were frozen shut. How easy it was to drift back to sleep.

"Ruff! Ruff!"

"What is it boy?" A familiar voice exclaimed. Was God talking? Is my neighbor, Mr. Lankton, God??? Was I in heaven? If I am in heaven, I guess all dogs do go to heaven!

"Oh my! Hey Roy, you better call 911 and bring the truck up the road! Sadie is lying on the ground!!! I don't know how long she's been here, so hurry!" Was God telling his angel to come and get me? Was 911 the code for the gate to get into heaven?! I felt myself begin to rise towards the heavens.

"Sadie, stay with me! I'm going to get you help! Stay awake! Lord, please don't take this child away from us!" I was wondering why Mr. Lankton, possibly God, was holding me and praying to the Lord. After all, I thought God and the Lord were one in the same. Then the world went black.


"Sadie, if you can hear me squeeze my hand," an unfamiliar voice gently instructed.

"Sadie, its mommy. Please squeeze the doctor's hand." I felt the doctor's cold hand in my right. I also felt my mother's warm, gentle hand in my left.

"She squeezed my hand!" My mother excitedly exclaimed.


That was the beginning of a long road to recovery. I had frostbite on my hands, feet, and nose. I came down with pneumonia, because of the severe hypothermia. I was lucky to be alive. It took me a few weeks to be released from the hospital, but it took me months to fully recover. I had to undergo physical therapy to help strengthen my muscles, and retrain my damaged nerves in my hands and feet.

I try not think what would have happened without Spiritus. Then again, maybe Spiritus and I are more alike than I thought. Maybe we both have spirit.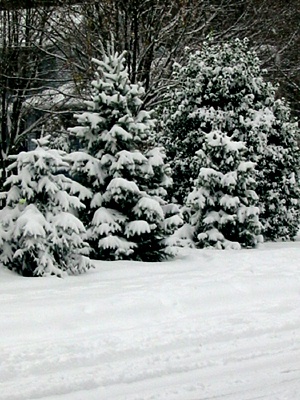 © Kristen S., Sewell, NJ