My City
October 16, 2012
Water, water everywhere I look.

My beautiful city, the one I grew up in, the only one of I've ever lived in, and all I see is water, water everywhere I look.

Houses are half full of water and on their roofs are the people and dogs, caught by the storm. They wave their hands, spray paint messages, scream and bark at the top of their lungs, all begging to be rescued from another cold night alone on the top of their roofs that have become like islands in a sea of chaos. Little do they know that their screams cannot be heard. They are drowned out by the tremendous rushing of water, the screeching of metal, and cracking of wood that rent the night air, like nature's own orchestra.

The streets have become rivers, row down one and you might encounter the top of stop sign that once towered over the little sedans that drove the streets, but that now strain to stay upright in the current of the boiling water. That's not all that 's in the water.

There, sitting half-submerged with doors ripped off, windows smashed, and a crumpled body is a truck, maybe some boy's first car. The smell of oil makes the air greasy and leaves a slick residue on my tongue. I don't want to look to close at what's left inside the truck, because I'm afraid of what I might see.

And there, floating just in the middle of main street is a piece of a couch that once hosted Monday night football and there, just to the left of it, is some little girl's favorite doll with its arm ripped off and its dress covered in layers of prickly mud.

If you look closer at the houses you will see sad remnants of what used to be. Broken doors, shattered windows, and destroyed walls are all that is left of a family's home. Sometimes you'll see a door just float down the street as if it just up and decided it didn't want to be a door anymore, so it thought it would just float away.

Look there's a family, mom holding her tiny, bawling baby in one arm and the hand of her three-year-old son in the other. The dad stands and pushed the raft down the street, a grim look of determination etched on his weathered face. The raft is made of an old, yellowed bathtub that wobbles precariously with every stroke of the worn out, wood handled shovel. Goodness knows where they are headed, there's nobody around for miles, just the trapped dogs, the wheeling seagulls, and the floating doors, but they have to try, can't give up.

So this is my city now. Made up of drowned houses and dead cars, trapped dogs and desperate families, and water, water everywhere.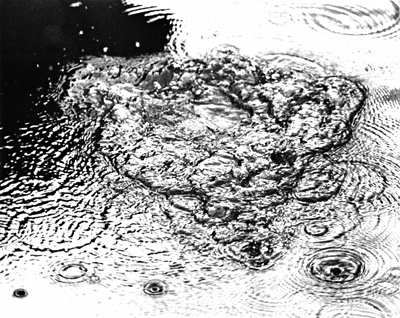 © Christina L., Great Falls, VA