Behind Perfect Doors
October 12, 2012
The water felt like ice, but she didn't wince when it hit her in the face. Her eyes were pulled shut and she was gripping the edge of the sink. Even though the bathroom was only dimly lit by the nightlight under the sink, she was still scared to see what might show in the mirror. She had thought about throwing the night light away but it would have felt like throwing a piece of her mom away, a piece she wasn't ready to let go of. She felt tears start to come, but a siren off in the distance grabbed her attention. She stared out the window; fresh snow still paved the road from this morning.
She took a deep breathe, gripped the sink so tight that her knuckles went white, and then slowly opened her eyes. Her body relaxed, and the night light's glow revealed that the swelling on her cheek had gone down. She reached out her hand to turn on the light and see the damage's full effect, but the front door slammed before she could. She heard Sunday Night Football flip on and she was overcome with joy that the weekend was over.
"Brooklyn?" he called. She swallowed hard to keep her voice from shaking.
"Hey, dad," she hesitated to get the words out.
"I brought back Wendy's for dinner," her stomach growled. "Is that okay?" he continued. She started to nod before remembering she couldn't be seen behind her door.
She called out, "Yeah that's fine," and let, "at least you feed me," slip under her breath.
Her mind went into auto-pilot mode and she snatched the makeup bag out of the left drawer beginning her pre-school routine. She dug out the dark eye shadow and eyeliner--typically applied generously to distract curious eyes from her the rest of her restless face—but stopped; she didn't need to hide any of this from him. She pulled a raggedy hoodie from the closet and let her hair engulf the bruises on her neck.
She began making her way downstairs, a long process which consisted of taking a deep breath with each step. She hesitated before turning into the kitchen, but the white paper bag on the table caught her eye and she was immediately drawn to discover what was inside. She ripped open the silver paper wrapped around her cheeseburger-no pickles-like a six year-old on Christmas. She took a bite and her eyes snapped shut, trying to absorb the taste before swallowing.
The last thing she had to eat oatmeal on Friday when she came home from school and that was like cardboard in her mouth. This juicy burger made her mouth water and wish it wouldn't disappear in a few more bites. She almost thanked him, but his soft voice caught her off guard. It was unreal to her that he could be sound like a different person than two days ago, and she knew he would transform again in the next couple of days.
"Brookyln, you know I would never mea-"
"Yeah, I know," she met his eyes and her lips twitched into an obviously fake, no-teeth smile and then turned her attention to a box of fries.
He cleared his throat before speaking again, "Um, do you need a ride home from school tomorrow?"
"No, I have one," it was a lie, but he didn't question it. She starred around the kitchen and her eyes rested on the counter. She looked at the badge lying there and almost laughed. 'To serve and protect' Ha! What a twisted joke. She wiped the back of her hand across her mouth before getting up and leaving him to talk to the TV. She waited till she was safe up in her room to laugh, but the laugh felt awkward and wrong.
It dawned on her that you truthfully had no way of getting home the next day and might have to make her way almost two miles in the snow. Her neighbor would pick her up at 7:36 in the morning, but cheerleading would be keeping her after school. Brooklyn thought that maybe her dad would have to get her after all. She thought about when he would pull up in the squad car, and how friends would say it must be awesome to have the sheriff as her dad. Her stomach turned.
"Walking won't be too bad," she said to herself. She stared at the clock. 6:37? She thought about going back down to watch the game but then figured it couldn't hurt to finally get some sleep, safe in her bed. She got up and locked the door before crawling under the sheets, closing her eyes, and praying that she will open her eyes and tomorrow would be better. She prayed every night because one day it will be true. Things can't stay broken forever, right?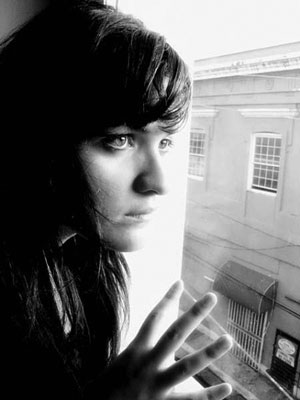 © Eveliz V., Bayamon, Puerto Rico