Innocence
October 10, 2012
"Mommy! Mommy! Do it again! Do it again!" I chortled and shouted with a high-pitched voice into mommy's orange and yellow summer dress.

Her smooth, soothing voice responded, "All right. One more time, Molly." A chuckle escaped her lips before she leaned towards me, placed her hands on my skinny waist, and lifted me off the ground. I found myself kicking off my light pink sandals and swinging my legs, feeling the cool air rub against my legs.

Mommy whispered into my ear, "Are you ready?"

I burst into laughs before she threw me up into the sky. My arms and legs stretched out, and I looked at mommy's gleaming face. A slight breeze blew the scent of freshly grown grass into my lungs and a lock of my soft hair into my eyes as I returned to her arms. I huffed my hair away before it fell into my eyes again.

Her voice returned, "Was that fun?"

"Mmm-hmm," I nodded quickly. Mommy set me down onto the ground and the moist blades of grass stuck into my feet.

Our hands joined and swung between us as we walked through the endless fields of daisies and bright green grass.


The distant laughing echoed in my ears, eventually silencing itself.

Mommy is sick.

These words continued to flow through my mind as I brought the soft, fluffy blanket of my bed up to my neck.

"Your mother is sick," my dad had confided in me, with his cheeks slightly damp and paler than usual. When he told me this, I nodded my head, looking at my little pink sandals that were sitting against the wall. The words echoing against the sides of my skull. I couldn't remember the last time I had seen his face wet. He must have taken a shower.

"Is mommy going to be okay; is she going to be better soon?"

He sat down beside me and put his large, rough hands on my shoulders, weighing my down against my unicorn pillow-pet, "Molly, I really don't know. She has a really bad cold called cancer, and the doctors may or may not be able to fix her."

"But, you always make me feel better when I get sick?" I smiled and shrugged, "Can't you just give her some tea and feed her in bed?"

The tips of his lips edged downwards, "Yes, Molly, but this is different. No one is sure how sick she really is."

I frowned and said in a patronizing voice, "She will get better; I know that she will. You just wait, Papa."

"Okay honey. But be prepared for what might happen; don't get your hopes up."

I listened to his sorrowful words.

But, I didn't want to believe them.

Nor did I understand them.

Now, walking down the shadowed, dark hallways of the hospital, I am still not sure whether or not to let myself fall to the same fate as my hopeless dad.

It has been five months since she got diagnosed with a special kind of a cold called breast cancer, but I, having been alive six years in my cheerful, teasing family, know that my dad is joking with me. The doctors have done multiple treatments on her but had told us to let them work and for us to come when they called us. My dad and I were going to finally see the results.

I arrive in the small room, immediately searching for my mom. Dad arrives several minutes behind me, only inching forward into the room.

Mommy was laying on a white bed, covered with blankets. Beeping sounds traveled across the room.

A young woman, who had been standing next to and was typing into a computer, passed me, "I'll leave you two alone to talk," and she did just that.

Silence rung in my ears as I walked slowly up to the bed, squinting and attempting to blur my eyesight.

I took a moment to look at her thoughtfully. Tubes were crossing her face in several directions, but she seemed peaceful in her sleep.

I gave her a little shake on the shoulders, "Mommy?"

Unreadable tears began streaming down Dad's face, but I stood there and stared at her.
I just stood there, waiting for her to wake up.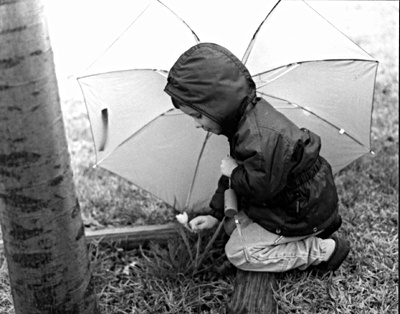 © Amanda M., Highland Village, TX