A How To Guide - How to Deal with Crippling Existential Issues.
October 1, 2012
A How To Guide - How to Deal with Crippling Existential Issues.

Step One - Think about them a lot. Think about them until your veins and insides wrap about each other like morning glories intertwined 'round a metal fence. Think about them until you're terrified to blink because what if your eyes don't ever open again, and it's only perpetual darkness and nothing else to be there? Think about it until you are a crying mess and mama dearest would be ashamed to see her baby acting like, well.. a baby. But you don't care, because you are a giant, pop-able pouch full of excrement and water and blood and, worst of all, you are going to die.

Step Two - Lie down and cry and try not to scream. Screaming is for later, darling. Tell yourself, over and over, how you're gonna live forever and ever - no matter what. Reality is for the poor and the ugly. God is never cruel to you. Convince yourself of it, of your impending immortality, even if you are a hypocrite and think equally about suicide when existential issues are crammed back down into the deepest corner of your bowels, left to rot and fester, ignored entirely. Cry until you're in a place you never longed to be, staring tiredly at the wall of ceiling, thinking about all your friends and family and how they're going to die, too. Remind yourself you won't ever die. Your life is going to be a real ra-sha-sha of a trillion years, right? Cry more. It's all you have left.

Step Three - Now convinced you'll never die and working to suppress any further thoughts, proceed to stay lying down for a good hour or two. The more you move, the more those thoughts will be stirred up and the faster you'll decay. Make like a renegade on the run, hiding behind a dumpster as the cops search the alley and follow the trail of seaweed you've left behind. Stay still. Breathe deeply. Refuse to think, but continue to be.

Step Four - Once of a stabler mental position, get up and drink some ice water. Pizzazz it up with some zero calorie drink sweetener if you have some. The raunchier and more pungent the flavour is from poor distillation ratios, the better. Distract yourself with petty things you're wasting your life on. Clip your brain into never-ending episodes of your favourite sitcom that could never go on too long, because there's no such thing as 'too long' or 'too much'. Gaudiness in a life sentence is the key. The slower time passes, the longer you're living. Relax until the thoughts are all but gone.

Step Five - Find something utterly meaningless to occupy yourself. The worse for your brain cells, the better. You should be able to hear them swell, pop, and mold. A video game would be good. For example, play Fallout - New Vegas and refuse to ever think about death, except for in that artificial, pixellated way it really is. As you play, notice the anger doing a vicious tap dance in you. The absolute rage building from all the times you refuse to let yourself get mad at those who deserve it, redirecting it into self-loathing at yourself as it should be, and how you curtsy always with kindness instead of conveying any of that negativity.
Oh, but you're angry now! Angry at everything and everyone, but most of all this short contract of a life. How insidiously cruel of it, how curt and tart it is to dupe you like this! Simmer with resentment, dress with the fury of a childhood skinned knee, adorn yourself with the crimson hot metals of animosity; generously cake on that hatred, darling, and let it clog all your pores so you're nothing but a reddened mess of a screaming mouth! Make it cheap. Make it loud. Make it disgusting. It's a real whim-bang-boom show of emotions, but grind it all in until you're a fine cinnabar powder of exasperation only to be sprinkled on yourself.
In the game you're playing, if everyone that is able to be murdered around you isn't strung up like a deer during cleaning, you've done it wrong.
If you have done it right, TA-DA! You're the wine stain unable to be washed off that perfect rent-a-dress. You're the overdose of powder ruining all the celeb's red carpet photoshoots. Can't get away from that, can you? You're the broccoli stain captured in every toothy picture not a living soul can live down. The giant double chin and zit combo on a bad head tilt in your senior photo; the lingering hairy, pot belly brush of a big ol' stranger trying to squeeze by; the ring-a-ding-whammy of fabulous in foreverland.
You're gonna live 'til now and always, darling. Now and always.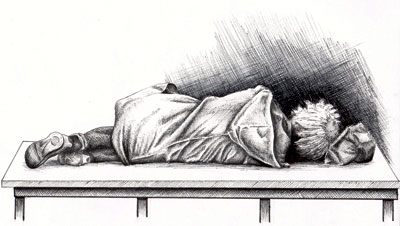 © Devin N., Sherrills Ford, NC