Trashrat
September 21, 2012
The wind, as usual, was whispering in the darkness. The many hushed voices rose in unison, a loud, billowing scream, whipping the trees and smashing the earth. They huddled in a corner, under trash bags, under cardboard boxes, behind shadows of darkness. But they couldn't do anything. Only wait in a corner and hope the wind would fade with the rising of the sun.

They were the trashrats. Dirty as rats, searching for trash, it was a fitting name for the homeless, hiding in the streets of New York City. Some were lazy, apathetic, drug-abusers or alcohol addicts. Others were desperately poor, mentally scarred, or merely unable to find a life. Some people, were simply, seemingly, the unluckiest in the world.

She stood there, head against the alleyway wall, sitting on the ground, fingers curling in despair. Her knees were bent. Her legs were dirty. Her whole body was cracked with mud, twisted. Hair lank and ragged, eyes blind to the world, the tiny girl looked as if she were dead, not even asleep. For sleep does not claim a victim's head, lolling out at a painstaking angle. This face wears a masked expression that is only caused by pain.

Yet, the girl was not asleep, not fully asleep anyways. In a half lit-up world, the tiny thing could hear the owls, feel the cold, cold floor, and hear darkness flooding the alley. Why is the floor so cold? She wondered. But the child could do little more that wonder, sitting there, wishing for a better future.
The girl did not fit in with the rest of the trashrats. She was one of those unlucky ones: unsure how she got there, unsure how to leave. Her whole life was peering in those garbage cans filled with litter, searching for a morsel or treasure that would keep the girl alive longer. That was the only life she had. And she would pause to watch the wind. It was always there, blowing the life right out of her ragged brown dress. The girl would watch as the wind shove so many things and wish that it would blow her away, too. And she could do nothing but wait until the wind died as the sun rose one more time.
Sitting there, crouching, a tiny, crippled rat, she hunched there, only a luminous pair of eyes showing. Look at the sun, she thought. Isn't it so bright? So yellow and round and bright. It was rising, behind braches of dark and death. Pushed up into the sky by the wind. And the trashrats were there, all waiting for it to end.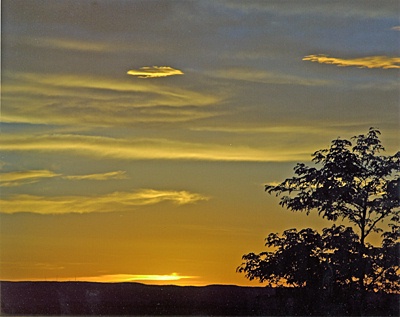 © Elizabeth B., Wichita Falls, TX