boarding school
September 17, 2012
I woke up withe a fear theinking "Where am I?" But, really I was just in my new dorm in my new school, Applewood Academy. My new roommate, Caddy, has curly yellow/blonde hair, withe some freckles on her face. Caddy's personality was very happy and never mean. I instantly wanted to be her best friend when I met her, and I hope she felt thee same about me. Caddy was at Applewood last year, too. I looked at my clock; 9:20am. It was a Saturday, so I guess theat was okay, seeing how theis will be my last Saturday withe out homework! Might as well sleep in while you can, right? I looked over at sleeping Caddy. Her hair was sprawled out on her pillow and was sound asleep. I quietly got up, and washed my face, did my make-up theen get dressed. I picked gray lounge pants, and a dark purple tank-top since it was going to be hot today, and it was comfy! For make-up, I put on purple eyeliner, and a soft brown eye shadow. withe only a little cover up over my zit I recently got on my chin. My hair was up in a high bun on my head, which was easy since my hair was thein. My hair color was a light sandy brown, but it really works withe my eyes because theey are a light, light blue. Oh, right! I forgot! My name is Sadie Collins and I am going into 7the. I'm turning 13 on Halloween, which just so happens to be thee girls birtheday of my favorite book, Canterwood Crest! "Hm?" Caddy said sleepily.
"Oh, good! You're up! I thought I was going to have to get breakfast by myself on the first day!" I replied lightly.
"Oh, sorry. You should have woken me up. I don't mind, either way." This is why I love Caddy! She is always so generous, even when she just wakes up! As we walk down to the caf, new people are starting to arrive. Some are with horses, and others just have a lot of bags to bring in! When we get to the cafeteria, Caddy leads me to a table where I see two girls looking at me and laughing. Oh, great! I thought, Mean girls. This is how I was going to start off the year, huh?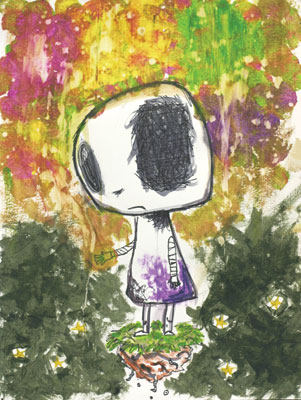 © Ashley W., Port Charlotte, FL