What You Don't Know About Rain
September 17, 2012
I sat on the Light Rail on my way to school for the first time in three weeks. I glanced back into the train, taking a break from the rushing by view outside. Sunshine appeared, pushing her way through groups of suit wearing men and women to the back of the train where I sat. She fell into the seat across from me, her arms crossed against her chest and a pained anger in her eyes. It was obvious she wanted to say something but she was too angry to be the first to speak. I tried to give her a sheepish look, hoping it would dull the fire blazing inside her but she wasn't buying it. I decided I was done with all the awkwardness so I put on an arrogant smirk and asked "So what did I miss?" That was almost to much for her to handle, I felt her anger radiate through the air. "Why are you here?" She asked using the last amount of calm she had. I opened my mouth to reply with a smartass remark but before I could even make a sound she whispered "Shut up," in such a sinister tone I lost all ability to speak. "You think you can just disappear on me into some smoke-filled plastic reality, partying all day and night, then come crawling back to me when you're done? Of course you do! You're Rain; you can do whatever you want right?" Her body was shaking and I wanted so bad to reach out to her. I leaned forward and let my hand rest on her knee, she pushed it off violently. "Don't do this to me again Rain." "I need your help," I whispered. Her eyes grew wide "You want something from me after disappearing for three weeks?" "Will you listen to me, please Sunshine," she glared at me but remained quiet, "I found this little girl named Daisy, she's been living with me and I don't know what to do. That's why I've been gone for so long, I didn't want to leave her alone at the factory. I don't trust the guys that creep around there when I'm not home. Don't be mad at me please, I didn't know what to do." "Where is she now?" "Mrs. Lillian said she would take care of her today but that's it." "How old is she?" "Nine." Sunshine nodded and put her feet up on the seat next to me, allowing me to rest my hand on her legs "We'll figure it out." I began to smile. "But you're not forgiven yet." I still couldn't help myself from smiling.


When the train finally came to a stop Sunshine and I climbed out of the train and I pulled her backpack off her shoulder. "Don't be so chivalrous, I know that's not you." Her voice had a chilled tone to it. "Let's just get to class." I said gesturing to the big white front door of our school. She took her backpack and walked off. I waited till she got inside, gathered myself, put on my best confident smirk, and walked up the steps to the front doors. A group of squealing girls crowded around me as I entered the crowded hallway. "Where were you Rain?" "I'm so happy your back Rain!" "I missed you." "Can you please tell Jenna you kissed me first." All of them full of needy anxious questions. I rested my arms on two of the girls' shoulders and a nervous excitement of giggles erupted from the girls. "Hi Rain." A few girls called flirtatiously as the mob escort passed the lockers. "Oh good, Rain and her entourage are back." Mrs. Costos said sarcastically as she gathered papers in one hand and shoed the fan girls away with the other. "Morning Rain," A few girls greeted shyly. "Morning ladies," I replied giving them a killer smile. "Take a seat Rain." "Yes ma'am." I responded taking a seat in the middle of the class. "We left off on page 34 in your books. Rain pretend to catch up."


By the time the lunch bell rang the school was buzzing with the news of my return, boys held their girlfriends a bit tighter and even the "straight" girls had trouble hiding their captivation. I walked into the cafeteria and felt all eyes on me. "Don't you ever get tired of that?" Sunshine asked coldly, walking up behind me. "Sunshine," I said startled. "Yup I'm still here don't act so surprised." She grabbed a bottle of water out of the vending machine and sauntered out of the room. "Sunshine wait!" I called, running after her. She stopped and turned around in the middle of the hallway. "I'm glad you finally learned to come after me." Her eyes were glossy and her shoulders shook. "Is that what this is about? Sunshine I'm so sorry I let you walk out that night, I was stupid but it's the past, please you have to forgive me. Please." "Do you even remember that night; do you even remember what happened, what you did? Those other girls were all over you then you just let me walk out when you knew how hurt I was. I can't keep letting you hurt me." "I know that and I'll never do it again. I swear, " She looked at her feet, emotionally deflated. "Let's go somewhere." "You want us to leave on your first day back?" I smiled "I think it's time for a break, don't you?" She sighed and shrugged. "Yeah okay let's go." I wrapped my arm around her shoulders and pulled her close to me, kissing her forehead then we casually made our way out of the building.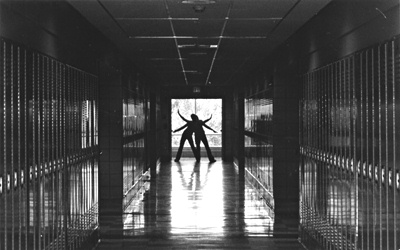 © Sheera G., Marblehead, MA