Autumn Air
September 9, 2012
The fall of the yellow leaves from my backyard tree was an inaudible event. My window had been shut since the beginning of summer, and I had been sheltered from the scorching heat. Inexplicably, my opening of the blinds resulted in my attraction to the leaves. One by one they fell on the grassy cushion below. Smoothly, yet suddenly.

I kept looking, and my concentrated gaze breaking free through the glass let me feel the music of the Outside. A squirrel's paws clicked against the tree bark, which simultaneously squirmed from holding the monumental weight of the tree-house above. Oh, the panic that seized me at that moment! My Atlas couldn't fail--it never had before.

But then my younger brother left the tree-house as my mother, tanning on an armchair below, called to him. I feared to read her dreadful lips. "Come down from there! The wood's too old, it's almost rotten! There are cracks everywhere."

Further, past the fence, the cars sped by, one faster than the other. Eventually, they became just a blur, barely perceptible to my eyes.

For a seemingly eternal moment, the thick clouds engulfed the brightness of the sun. Curiously, its rays shined through, although diffracted and weakened by the gloom. This charming ambrosia, that had been hitting my unkempt bed, now moved to illuminate and nourish my cluttered desk. Growing like ivy, my room was soon overtaken by a desk fit for a giant. Next thing I knew, I was pinned to the wall by one of its corners!

I needed to get out. I couldn't breathe. With all of my strength and courage, I swiftly moved my way to the window! And in flew the autumn air.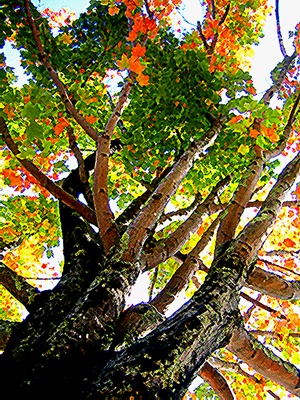 © Kathryn R., Shelby, NC