The Sea
September 1, 2012
Today, my final English paper is finished. I hold it up and look at the title again. The Old Man and the Sea; Hemingway's Use of the Sea as a Symbol. My teacher would've preferred a title with more words like sublime and wondrous and majestic, but I'm actually proud of this paper, and I don't want to mess it up by pretending.

It's been a year and a half. Five hundred sixty nine days, to be exact. Today is the day that I'm going to stop counting. Of course, tomorrow I'll wake up thinking five hundred seventy, and maybe the next day I'll think five hundred seventy one during my morning run, but gradually I know I'll lose count. Santiago went eighty four days without catching a fish, but then the eighty fifth day came and none of that mattered anymore. Today is the day that I finally made a catch, so to speak. When I looked in the mirror this morning, I didn't see dark circles, hollow cheeks, and glassy eyes. All I saw was me.

I'm sitting on the steps of the deck in my back yard, with the freshly printed paper on my knee.. I can hear my little sister through the open window of her upstairs bedroom. Jane's deep in the middle of a tearful telephone conversation with a girl from her class. She's telling her all about the loss of this week's best friend to some sixth grade love triangle. She told me that the boy called her Plain Jane. I told her it wasn't true, but she hasn't listened to me since she was in diapers. Plain Jane. She's slightly selfish, somewhat spoiled, and very innocent. I don't get mad at her anymore. She's so young, and I can't always expect her to understand.

Yesterday, after I finished my homework, I went upstairs to watch TV with her. I somehow had control of the remote, so when I saw that "Rocky" was on, I didn't switch the channel. I practically have it memorized, but I need to start teaching her an appreciation for art.

"That was the lamest movie I've ever seen," she said at the end.

"How can you say that? It's beautiful!"

"He lost."

""But not really. At the last fight, everyone who'd believed in him thought he couldn't do it. But even though they were telling him to just stay down and give in, he got back up because he knew he could."

"No, he lost."

"Jane, it's unimportant that he lost on a technicality. The point is having the strength to keep getting back up, no matter what everyone else is telling you. That's winning."

The roll of her eyes showed all of the accumulated frustration from eleven long years of being smarter than everyone else.

"Whatever you say."

I could have gone on, but I let her switch the channel to some cartoons instead. She'll understand it someday. And really, I'm happy that even though she might play a starring role in many a middle school drama, she still watches cartoons at the end of the day.

The only thing that bothers me about my paper is that it took me 1764 words to write something that would have taken Ernest Hemingway himself about three sentences. I reach for the tattered book sitting on the porch step beside me and flip to one of the last dog eared pages. A blue pen highlights my personal favorite sentence. "A man can be destroyed but not defeated." It was my dad's note, not mine. It's the only note he made in the whole book. This is his book; I borrowed it for school.

I don't know where my dad is right now. Maybe it's a late night at the office, or he's having dinner with some clients or friends. I think of the song he used to sing for me when I was little. The sun is up. The sky is blue. It's beautiful, and so are you. He can barely look at me still. I wonder if he still thinks I'm beautiful. It's true, I'm not who I was. But maybe someday he'll see that it isn't a bad thing. Maybe tonight, when he gets home, I'll show him my paper, and tell him that his favorite sentence is mine, too. And if today isn't the day that we finally talk, I can still hope for tomorrow. Because even after everything, I've forgiven him. I know what it's like to have something that's on the tip of your tongue, but still too painful to say.

I know where Mom is. She's on her way home. She called me and told me just before I came outside.

"I love you," she said, almost shyly, before she hung up.

It should be the most natural thing in the world for a mother to say. She doesn't mean to hurt me with that tiny ounce of hesitation in her voice. Maybe it hurts her, too. But she and I are healing every day. The only important thing is that I know it's true. She does love me.

"I love you too," I'd told her, and her contented goodbye was almost like hearing her smile.

I'll show her my paper when she gets home. Even though she's not as big a reader as Dad, I know she'll at least listen. I can't get enough of my favorite part, the most important paragraph where I link the sea to Santiago's outlook.

"Perhaps Hemingway's most important symbolic use of the sea is the parallel that he creates between the sea and life as a whole. This device allows Hemingway to make a connection that every reader can relate to. Throughout the novel, the ocean is characterized as treacherously unpredictable, changing ceaselessly from kind to cruel. The same sea that has supplied Santiago for a lifetime has left him for eighty four days without a single fish, only to become a battleground once he finally catches the marlin.This mirrors Hemingway's view of life, as harsh and impersonal. But Santiago is willing to persevere through whatever challenges the ocean throws at him, and through this spirit he is victorious.. Likewise, in all Hemingway stories, the hero is made heroic by spiritually rising above circumstances through his or her inner strength."

I wouldn't be ashamed to show that to Ernest. I actually feel like a real writer. Maybe someday I'll write for a living. Then, I can write freely, and it will all be a hundred percent honest.. In an school paper, I couldn't quite say what I really read in The Old Man and the Sea.

That even though the sea is full of danger, it is above all very beautiful.

Five hundred sixty nine days ago, I stood in front of my house and wondered why it looked just the same. Why was the fence so white and clean, and how could the night be so still? My life was on fire; it wouldn't be long until there was nothing left with ashes. And I couldn't be fixed. But now I know that this pretty white fence never could keep anything really scary away, and that the moon comes out each night no matter what happens beneath it. I still found peace.

And that's the fight I know I've won. I stood up again, once destroyed, but never defeated.

I believe that the sea is beautiful.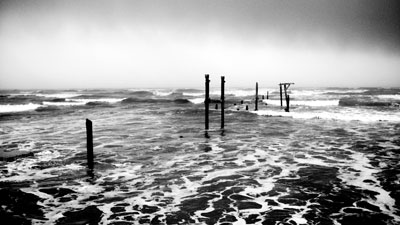 © Harrison L., Ruston, LA