Just The Usual
August 31, 2012
Lights. Colours. Together they covered every piece of the large empty room I was standing in. Surrounding me, the bright lights flashed on and off, constantly, as the numerous different colours moved all around the walls, forming pictures for me to watch. Suddenly, the display stopped, leaving me alone in the darkness to wonder what I had just witnessed.
Now, without the distractions I was able to observe where I was.In the dim room a stream of light focused on me from no where in particular. Other then the area that was in path of the light, I couldn't see anything. The only thing i was able to see was the smooth, flawless hardwood floor beneath my feet. Along with that detail, I finally noticed the outfit I had been wearing.Flowing from my body was a silk blue dress that hugged the upper half of my body but fell to the ground once reaching my hips.I twirled around to find the fabric fallow my movements in ripples.Removing the black slippers from my feet and feeling the cold floor gave me shivers, making the room seem even darker.
Standing there i waited, hoping for the breath taking show to return just as it had earlier. Moments later I heard a quiet, soft melody ring through the air. Each note would fallow after one another in perfect harmony. The song sounded as though it was being preformed by a professional orchestra. It was heartbreakingly sweet and I didn't want it to end. In fact, it was just the beginning, when everything came together.
The colours and lights came back into view, moving in rhythm with the music. Lights flashed to the beat at perfect times, just as the colours painted pictures. Slowly, the rhythm grew louder and was paced quicker, forcing the rest of the room to do the same. I watched in amazement, feeling something inside me beg to be part of it all, to fallow along. Answering the pleas that I felt, my foot stepped forward and I took off in dance. My dress and I moved with the surroundings. When the music would speed up, I joined, no matter how exhausted it made me.
Everything fit together, piece by piece, like a puzzle it all made something unexpected.
Once again everything sped up, but i had passed my limits and couldn't keep up any more. Feeling out of place, i improvised and started to spin instead. Spinning so fast that the colours and lights would blur together as i passed by. I spun as fats as i could, but eventually i got tired. Although I didn't give up on twirling my body couldn't handle it and my legs began to shake until they gave out from underneath me.
Falling backwards, i prepared my self for the blow by closing my eyes. I waited to land on the floor but it never came. Everything had stopped and i was in the darkness again. With my hands i searched around me, finding the softness of my blankets. Bolting up in my bed, i opened my eyes, yet saw nothing. The beautiful moment i had enjoyed was gone. It had all disappeared and was locked inside my head, reserved for only me to experience.
Looking into the darkness of my bedroom, i replayed the memory in my mind as i smiled to myself.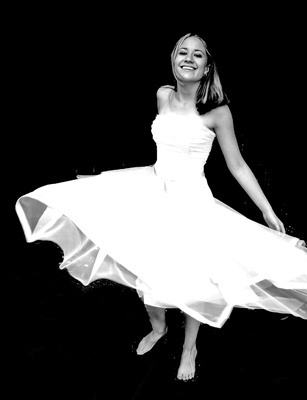 © Kara S., Walnut Creek, CA