The River
August 28, 2012
The river flowed. That's all it did. No fish reside within its coves and it was very lilliputian for use for any recreational purpose. No one had ever paid attention to this river. It wasn't clear or full of life, it was just simple. I was really the only one that this murky water any attention, yet I never understood why. Our rural area was right on the edge of Lake Superior in Minnesota, but the lake never received my interest. Only this little river had my thoughts turning. Maybe it was something about its bare trees or how the soggy leaves still soaked from the winters white blanket. But everywhere in Minnesota was like that this time of year, so nothing of significance shown within this river.
Just flowing down the hills, curving around the obstacles much like a slithering snake, moving at its own leisure without a sound. Not even a mouse was scurrying to make a noise. A breeze blew by carrying the fresh scent of pine across my frostbitten nose, a scent that often filled my nostrils in this town. Yet again, this river was just a river; nothing attractive drove me to it and yet I was standing there, wondering about this flowing stream of water. I took off my gloves, instantly feeling winters chilling embrace, slowly slipping my hand into the river as a shiver went up my spine. The water was so chilling just like I had expected. So what drawled my attention? The murky water, bare environment, the silence, a freezing touch, and familiar scent made it just so obsolete.
Yet every evening I treaded to this one spot. Standing here from day to day, doing the same routine, never showing any importance to the world. I just weaved out of others way and found myself observing this river. While the river just flowed.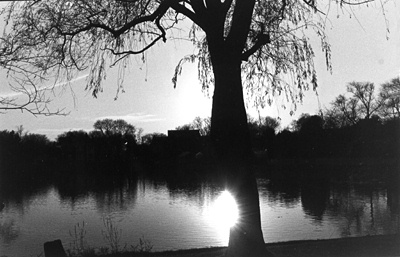 © Chuck K., Marblehead, MA