Losses
August 24, 2012
Matthew claimed he was no writer. "I cannot write poetry nor prose," he protested at lunch the other day. Yet he saw things that others couldn't see. "The butterflies flutter around you so freely," he murmured once. "They dance, for your happiness is better than the purest of nectar." Puzzled, I looked down at my arms, my dress, but I saw no butterflies. "How do you know that I'm happy?" He grinned. "You radiate delight, friend. Vivid colors of green and scarlet and gold surround you." Again, the brilliant colors he saw were invisible to me. I was indeed ecstatic; the university of my dreams had accepted me, and I felt that the puzzle of my life was complete. But I had told no one, never giggled, never jumped up and down in bubbles of excitement. Yet Matthew knew.

"Skinny, girlie twig!"
"Kill! Kill! Kill!"
"He's not even 90 pounds!"
"Throw him over the fence!"
Safe behind the window of the classroom, I watched as a group of tall, lean students bent over Matthew at the courtyard. Matthew, who sat calm and composed, legs crossed, on the dirt. The students were members of the school's basketball team, and they detested Matthew for his dreamy words and lack of masculinity. I shuddered instinctively as they took turns kicking and spitting at Matthew. Yet he bore all their taunts and sat ever so silently on the ground.
I didn't know what to think.
A voice in my mind screamed at me to run out there, to help him. He was being tormented with kicks and sticks and stones. Yet my body was frozen.
Suddenly Matthew turned, and locked his hazel eyes with mine.
I didn't know what to think.

He still spoke to me, accompanied me. But a shell of ice seemed to have crusted his skin. He no longer spoke in the lovely metaphors and similes the way he had before. He still smiled, but with his smile came sadness. I wanted to embrace him tightly, until all the pain melted.
But I couldn't.

They brought knives to school one day. Again, the courtyard scene. The shouts, the screams. Once again, I sat behind the classroom window, goosebumps covering my flesh as they slashed at Matthew's thin frame.
I didn't know what to think.

-----------------------------------

After two months of quietly enduring the same harsh treatment,

Matthew disappeared.

He'd whispered in my ear the day before,
"The butterflies have died."
So saying, he left me on the bank of the lake, his hands tightly gripping a black umbrella as he waded deeper and deeper into the shimmering waters.

I didn't know what to think.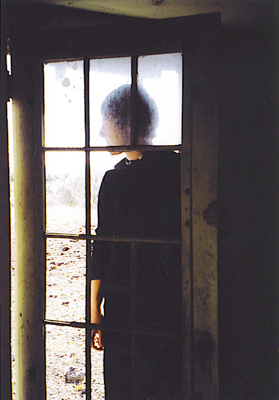 © Lindsay S., Billings, MT