Hello
August 18, 2012
"You're a backstabbing liar!"

"If I'm a backstabbing liar, then that makes you a liar too and a cheat besides."

"Oh yeah?"

"Yeah!"


I laughed out loud as I heard the little kids argue on the slide next to the bench I sat on. I let my legs dangle and swung them idly as the sun shined and the autumn leaves whispered and crackled across the pavement. Today was a good day, I could just feel it in the air. It was a day when anything could happen, a day where adventures could be around every corner. I felt like doing something, something amazing and breathtaking and wonderful.

The very thought of it lifted me to my feet, and I started walking. The familiar sidewalk had unfamiliar chalk drawings scrawled across its surface. Colorful depictions of a war on one driveway made me smile.

As I was looking down at the pictures and maps and scribbles I heard footsteps. Naturally, I turned to see who was coming. When I did see who it was, I was quite surprised.

It's funny how one terrible thing can ruin a beautiful afternoon. Funny in a hollow, whimsical sort of way. Like the way a child feels that the world has ended when the top falls off of his ice cream cone, I felt robbed of a certain joy and peace of mind as my ex boyfriend appeared on a chalk covered sidewalk on a sunny October afternoon.

He stopped and looked at me as I stared at him with one reproachful eyebrow raised. The enemy had entered my winter fort, and I was out of snowballs to throw at him. He was not supposed to be here. Not now, when I was still working on rebuilding my defenses. Not now, when I was still recovering from the last attack.

He had wronged me. I felt this injustice in the space between us now, as if it was a chore that neither one of us wanted to take care of. He had to know he had hurt me, and now that I had a good look at him I could see that he did know it, and perhaps was even sorry for it. But that was not enough for me. I wanted time to be unwound, and I wanted him to undo what he had done. I wanted the impossible.

The world didn't feel wonderful anymore. I looked back at a scribbled, multicolored army on the ground and the figures now appeared to be more menacing and cruel. Maybe they would crawl off of the sidewalk and start stabbing my shoes with their tiny spears and swords. They probably weren't tall enough to stab me in the heart. But I knew someone who was, and he had already done all the damage I could take right now.

I heard him clear his throat, and I waited. I waited for an excuse or an apology, or some words of explanation. Whatever it was he had been planning to say did not get said. I waited for nothing, and I wasn't going to wait any longer. I walked past him to go back the way I had come.

Before I had gone five steps beyond him he called my name. I didn't answer. I didn't stop. I kept walking. I heard him follow, footsteps insistently coming from behind me like a reoccurring nightmare about monsters underneath the bed.

Eventually I returned to a lonely bench in a park full of slides and swings. I sat down. He stopped somewhere behind me, and I watched the swings and wished he wasn't there.

He finally said something, a short and simple greeting. It sounded anxious and friendly and sad all at once, and somehow I heard what he couldn't say. I knew he was looking for forgiveness, for recognition that we had once been happier than this. I knew he wanted me to reply, and I knew that he knew he couldn't fix his mistake.

I reached within myself, and somewhere I found a heart that I didn't know I still had. Nothing would be the same again, but at least this way one person could feel better about the world. I turned and showed my face again, and I told him what he wanted to hear with one little word.

I said, "hello."

He nodded and left, hands in his pockets, still glum but with a sad smile on his face. I sat back on the bench and allowed myself to relax again. Then I glanced at a short red slide. Two children were there, playing a game, best friends again like nothing had happened. Someday they would learn how the real world worked. But for now, there they were, and I knew that one of them was happier than she had felt before because she had learned to forgive.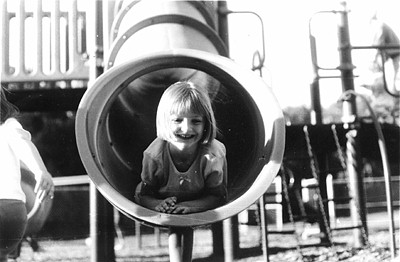 © Jessica M., Marblehead, MA