You wanted to Talk?
August 16, 2012
Have you ever talked to someone, who changed your life?

My perception of reality has shifted. To a place I can't describe- a place between utterly sharpend senses, and a sober euphoria.

It was late afternoon, and I was sitting in the dusty corner booth of a local coffee shop. I was sipping my cold Rasperry Mocha as my mind drifted through groggy thoughts.The orange sun peeking through the plastic blinds was slowly setting. The clunky air conditioning unit by me circulated stale air around my face. Exhaustion closed my heavy eyelids.I was out for not even 10 minutes,when I heard the sound of clothing moving against the sticky seat. I looked up to see a pair of eyes studying me. A boy was sitting across from me.

"What do you think you're doing?" I asked, my tone more offended than curious.

His face remained still." Sitting."

"Well, you don't have to do it by me."

His eyes showed a suprising amusment. "Yes I do."

"What??" What was this freak trying to pull?

He rolled his eyes, as if I were the weird one. "Look." He said in slightly sharp tone, "I came and sat by you because you wanted to talk".

I said nothing- We sat in a brief silence. My eyes shuffled around the small coffee shop to see if anyone had seen our strange meeting; The room was empty. A small pang of panic tugged at me, but I pushed it away. I tried to sound somewhat non-chalant. "And why do you say that?"

He flashed a meticulous smile. "Because everyone wants to talk."

I considered this, and propped a chilly hand under my chin. I didn't say anything.

"Tell me about your day."

I felt my mouth drop. Why the hell would I talk to a random stranger about MY day?.My mind generated what seemed to be thousands of reasons why I should leave.

It was probably a full minute before I did anything, and what I did, was talk. I told this stranger about the jokes the worker in the post office downtown told me as I sent letters this morning, the rusty tin cups my aunt insisted to drink out of when we drank tea together, my colleague's birthday celebration at the office- I had a great day. We laughed and talked a bit. The coffee shop colors seemed less dull, and the fleeting sunlight from the windows felt warmer.

He got up and left that little coffee shop booth. Like a shooting star, he was gone.

Only moments later, The cheerful chime of the coffee shop filled the empty room, and a tired figure followed. I approached the lonley woman.

"Tell me about your day" I said, smiling.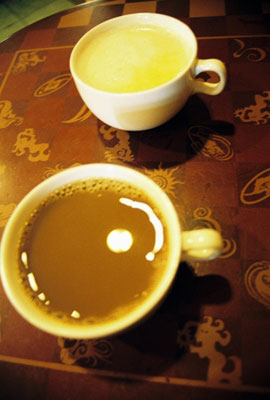 © Jaci S., Duluth, GA