Self Medicate
August 11, 2012
He made a tempting offer, and I took it. With no second thought, I downed a handful of pills and let the booze slowly follow. Then we ran, the street lights disappeared behind us and all I saw was the bridge ahead. It glimmered against the pitch black sky, looking more inviting than ever.

"This is great!" I screamed, and his arms found their way around my waist. I was slowly lifted off the ground and spun around. Catching my breath" my eyes widened and words escaped my mouth, "Let's sit on the edge!"

It took him a moment to comprehend what I had said, and then we both raced off towards the middle of the bridge. In one leap, I brought my legs over the edge and my butt hit the thin bar. We laughed and talked for hours and the cars passed by in awe at these two kids sitting on the side of the Brooklyn Bridge.

"Have I ever told you how much I hate myself?" I asked him, hiding my face with my bright red fringe.

"No…" he said, his voice uneasy, as if he wasn't expecting that.

"Well, I do…a lot." My head sunk down, and I stared at the abyss below me.

I could hear him thinking, he didn't know what to say at this point, but then he spoke. "You shouldn't…"

A smile slid across my face, he was so naïve. "That's harder than it sounds…you don't know what goes on in my head."

He looked out into the sky, "Oh…" His arm slid around my waist, and he pulled me in. "Hey," he whispered, to me, and I looked up, "you're beautiful."

I didn't know if it was the booze talking or not, but, it made me smile.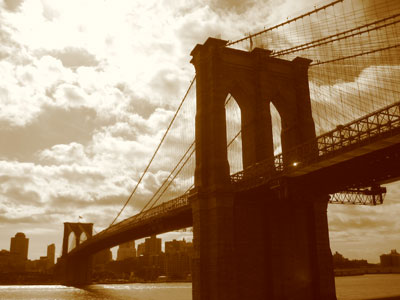 © Andrew M., Brooklyn, NY