Revenge is best on you.
August 8, 2012
It was Friday night, alone at last. The scoundrels, most commonly known as high schoolers, were out of sight and out of mind. There was 3 days until I had to see them again.
The first order of business was food. I opened the refrigeration as the door's suction was broken. Lemonade was my drink of choice. One cup and 4 ice cubes was all it needed. Next up, a movie. My fuzzy slippers slid across the wooden panels as I walk to the couch. My legs open, almost as wide as the girls at my school. The soft comforting cushions envelope my emotions as I grab a blanket. I seize the remote and turn the plasma on.
I wake up in the middle of the night on the couch due to sound I hear. I look to see what time it is, and the clock says 2:37 am. AM?! What is that ruckus this early in the morning. I go to the front door, since I live in a good neighborhood, and I get sprayed with shaving cream. The laughter is louder than my screech in my mind. I knew who this was by the sound by the sound of her Gucci boots. This villain was Vikki Lepont. She was with her three evil "bffs" and her on-again off-again boyfriend. They ran into the neatly trimmed bushes and squatted. I was standing there, in my blue slippers and bath robe covered in shaving cream. I knew that if I had called the cops, they would get back at me 300 times worse. Vikki's mother was a lawyer, and got her out of all her "troubling" matters. I knew that what I had to do, to really get them to stop, was revenge.
Since my best friend was my cousin, I planned this operation by myself. What items would I need to complete this task? Blueprints? No, if I were going to complete this to its best ability, I could have no proof that it was me. No trace, no evidence, no anything! It was all clear what I had to do. I was going to kill Vikki Lepont. Not just kill her, but murder her. At prom. This prom in 3 weeks. Before she receives her crown, and yes she will get that crown. Everyone knows it already.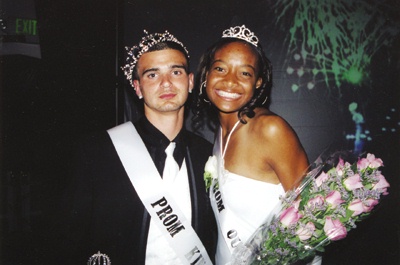 © Melinda M. Phoenix, AZ