Double infinity
August 8, 2012
Chapter one. After your death, you were turned into dust and dispersed into the ocean. It was a calm day. The sky was grey and parceled with clouds, no thunderstorm in the horizon. My mind was empty, thoughtless. The air was enveloping me. There is an old belief in Turkey. Every soul of a dead person escapes the motionless body and is left with two choices: join the elements of earth or stay in a familiar place to be present for the persons it left behind. As the air weighted on every particle of my skin, I felt a stroke in my heart: I imagined you were enlacing me with endless and imaginary arms. My eyes followed only the waves. Waves in and out. They licked the sand, leaving foam on it behind. Waves have a magical power. They take unwanted things with them as they return to where they come from. They erase what has been inscribed. They erased my footsteps on the sand, erasing my presence on this small piece of the world along the way. I ran, and ran, trying to conjure up my fate, wanting to be faster than the waves, and rejoined the rest of the group. The group formed a circle with you in the middle, contained in a Russian jar. My father asked me if I wanted to be the first to liberate you from it; I refused. The whole day seemed unreal. My father feared other people would react the same way. He took the jar and tossed the dust into the air. The dust spun around higher and higher and finally united with the ocean. Your soul found its body again, fragment by fragment.

Chapter two. The small remains of human fragility can be impetus for change. Before I knew about your disease, I hardly thought of you. You were simply the neighbor who would come sometimes to stay with me when my parents were out of town. You did not like to say babysit because of the word baby. You considered me more than as a baby, more mature than anyone I knew. One day, you let me alone in the house for four hours. You found me in a covers and pillow castle. Lights from the inside illuminated the entire room, painting the white walls in rainbow colors. Piles of books stood on one side, stars were dispersed all over the red carpet. You understood then. You understood my fear of being left alone. You understood that I created a haven on my own. That is when you stopped to say you babysat me on weekends. That is when you stopped going to your dance lesson alone and took me with you. I forgot about you because you moved away and I grew up. New babysitters replaced you until no one was needed anymore. The few times I remembered you were the times I saw Alice in Wonderland in a bookstore. It became the theme of my castle. Two years ago, when my mother told me you were registered as a patient at the hospital near our neighborhood, I went to buy a copy immediately and took the bus to see you.

Chapter three. I came to visit you every day, even when you were sleeping. Your golden hair was drizzling on the flowery pillow. Your skin was white, more white than usual. The shadow under your eyes deepened and your lips became less pink and red day after day. You stood still, lying on your bed while the machine registered every heartbeat. Every heartbeat of the clock of your life. Your heartbeats were numbered. You knew you had an expiration date, which was nearer every day. You amazed me. Every time you were awake, you would always try to do something. We would read Alice in Wonderland. We would walk in the small garden inside the hospital. We would run in the hallways, me by foot, you in your wheelchair. We would eat every muffin and every fruit in the cafeteria. Our activities slowed down during your last days. You lost your hair, slowly but surely. I would comfort you. I would say that it will grow back and we will have the time to explore every city in Europe after you were cured. I truly believed what I said. I truly believed this was a temporary moment in your disease. Minor fibers of your life become encrusted in you though. Temporary moments multiplied. The treatments weakened you. I stayed until the end, until your heart stopped to beat, until the clock reached its expiration date. At 8:15, your soul embarked on another journey. No one realized it. No one realized I did not cry. No one realized I did not scream when your heart stopped to bit in this room of the gigantic hospital, too gigantic to protect only the two of us. No one realized I hardly spoke the weeks after. I did not realize either. I did not realize I did not feel anything, any emotion, any compassion, pity, even love, until I pushed my mother from my bed. I watched the television, did my homework but I did not feel anything. I was empty inside. Your absence took away all possible emotion.

Epilogue. I do not believe in rebirth but I believe in parallel worlds. Somewhere, we are happy. This is just a sad version of us. Somewhere, we are still in my castle, reading, eating, talking about trivial things. My love for you is similar to double infinity, this limitless ocean you were dispersed in.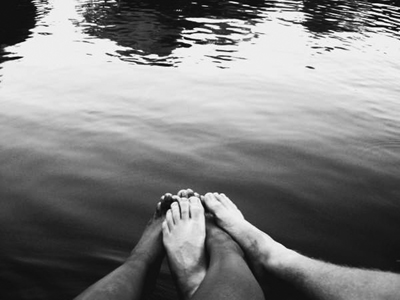 © Michelle W., Ada, MI