The Ark
July 29, 2012
My giraffe doesn't fit in the house.

Dad instead cuts a hole in the ceiling of the shed. I have the comfort of looking out each night and seeing its long neck rising from the shed like an implanted redwood tree. Transporting it in and out is an ordeal, however. Whinnying. Screeching. Whispers through whitewashed walls. I spend so much time down at the shed that Mom says the giraffe has to go. Hit the road, Jack.

Mom says that the yard is off limits; she doesn't want that "disease-ridden skyscraper of an animal" killing all of her grass. So I look to the woods that swell up against our house, held back only by a moat of grass. One morning I lead the giraffe into the woods until we come to the place. A dried up half-pipe of riverbed. I dig into the sides, carving my architecture out of the canvas of earth.

I begin carrying an old pickle jar on which I scribbled the words: "JURAFF SHELLTER FUND". It sits on my school desk every morning; however, the jar is rarely greeted with pocket change but rather laughter from the other students. During lunch I place it by the trashcans so that it can heckle students for spare change; I often return to a jar filled with half-eaten fruits or parts of someone's lunch that they decided was better used as a punch line than as nutrition.

The project comes along nicely, even without funding. The riverbed is now a pit that resembled a circus ring. I build a giraffe lean-to, a structure that I waterproof in thirty sandwiches' worth of Saran wrap You can eat your sandwiches off the floor for all I care then During all this the giraffe often just sits there and watches me with a look that can only be described as dull. It most likely focuses its attention on a falling leaf. A snapping twig. Whispers through trees.

I clean up the path to the shelter, and on its opening night - I'm very busy Karen, yes I know it means a lot to him but I don't understand why, it's a waste of time - I bring my parents with me. Like any tour guide I show them each detail with a level of excitement that greatly exceeds that of my tour group. The three of us watch as the giraffe enters its new home. Home is where the heart is. Back in our house I grip the carpet as I listen from the staircase as they talk. Too much time, it's just an animal, it's a phase it just has to be I know it, friends at school? The words unspoken say the most. I go to bed staring intently out of my window, hands aching from splinters. I am Noah after building the ark, my construction of salvation for dull-eyed beasts that can thank me with nothing more than a blank stare.

…Blurry days. Hazy nights. Hours spent watching the stars, watching giraffe, watching cars. Dad leaves, so do the tools. Turtleneck men in our living room, my living room – he simply spends far too much time with this animal. These men leave, Mom starts dinner, too much time. Time stops. Rain comes. Rain goes. Wood rots…

The giraffe comes less and less, I wonder as to why? Maybe I'm just not seeing it among the trees.
The giraffe has disappeared. Turtleneck men no longer come. Mom starts dinner early, a special dinner tonight. It is bland; it needs salt. Mom gets me a "real" pet on Christmas morning, a small dog. Its bow is wrapped too tightly around its neck. The dog is a quick learner and knows every trick: sit, stay, roll over, fetch. Loyalty. Mom even lets it sleep in my bed. And I am content, or so I think. Every night as that dog curls up at the foot of my bed I stare out of that window, imagining I can still faintly see the speckled outline of a slumbering giraffe buried in its depths.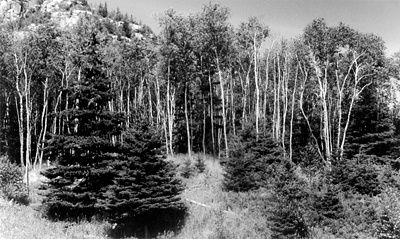 © Steve S., Marblehead, MA