Last Kiss
July 31, 2012
You're looking out across the water. The sun hits your face perfectly. Showing every angle, every tiny bit of stubble. The sand is warm, shifting beneath our feet. You close your eyes and take in this very moment. I watch you closely, loving every piece of you. Your hand slowly reaches for mine. I take it, holding tightly.
Eyes now open, you look at me. I stare into your eyes. For being so young, you hold years of wisdom in those green eyes. Years of pain, that I wish you never had to endure. You smile and caress my cheek. You treat me with so much carefulness, when you are the one that deserves it.
You slowly lean in. I close my eyes and hear the distant crashing of the waves. Everything about this moment is perfect. Your lips softly brush mine. I wrap my arms around your neck. You kiss me, like I had always wanted. You never knew about all the years in high school that I would swoon over you. The most popular guy in school. Then me, the girl who always had her nose in a book.
I would watch you from the bleachers after school. I would watch you play football, knowing you'd be famous for it someday. You were so talented. Everyone liked you. You were smart. You had everything going for you. No one ever saw it coming.
But you are mine now. That's all that matters. I love you, and everyday I get to hear you say, "I love you," back.
I cherish this moment. Remembering this was were our very first kiss was. Back in our first year of college. It seems so long ago. We weren't married then. We didn't have a house together then. We didn't have a precious baby growing inside me then. Our beautiful son. I prayed everyday that you would last long enough to see him be born. Our miracle child.
All of this runs through my mind in the seconds that you kiss me. We finally part and you lean your forehead against mine. You breath in and out and I wish for more kisses like that. You kiss the top of my nose and I giggle like a little girl. You smile and start laughing too. Something that neither one of us had been able to do for a while now.
We fall back on the sand, lying side by side, hand in hand. We pray together, for this last moment. We thank God, for everything that has happened for us.
You turn over on your side. You say the words that still give me butterflies, you will say them for the very last time. You kiss my forehead and say, "I love you." And just like that, I feel like I'm in heaven.
You died that night. We got home from the beach and I let you go lay down in our room and sleep. I cried, knowing I couldn't keep you. That I didn't know how many more nights we had together. I watched TV late into the night. I checked on you often. The last time I checked on you before I fell asleep on the couch you were still breathing.
I woke up early the next morning. I walk into the room smiling ready to see you awake, watching the news like every other morning. To crawl into bed and just lay there next to you. But that didn't happen.
I called your name, but you didn't answer. At that moment I knew you were gone. The cancer had taken you. The one person I loved more than life itself. I cried silently as I walked to your side. Your eyes were closed and you looked so peaceful. You had a smile on your face and a picture in your hand. It was of me looking at the ultrasound, seeing our son for the first time, growing inside me. You had told me it had been the happiest day of your life.
Lots of people showed up for your funeral. You were very well liked in our neighborhood. It felt strange to not have you by my side. I had many people say they were sorry for my loss. But they had no idea what it was like. I buried with you the picture you had when you died. I thought you'd like that.
Our son was born three weeks later. He was so beautiful. You would have been so proud. I know I was. I love him so much. I named him after his father. His name is William, and the older he gets, the more he looks like you. He is my daily reminder of you. I'm grateful for him, and having you when I did. We have a wonderful son. And the doctors told me that he took my side, and most likely will never get the cancer you had. So even if I couldn't keep you, I can keep our son. Who will grow up to be as great as his father.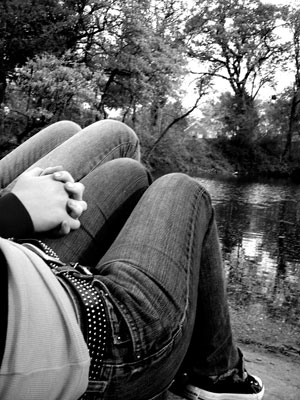 © Lauren R., Edmond, OK