Solitary Confinement
July 28, 2012
As i climbed up the narrow steps to board the plane, i risked a glance over my shoulder to see the world one last time. Trudging through the crowded aisle i could feel eyes staring at me, multiplying as i plowed forward. I ignored them, used to the dirty looks, questioning expressions, and quieted conversations. I could tell how this looked to them-knew they weren't exactly comfortable being on a plane with a handcuffed stranger. No one ever thinks about the story behind why 'that girl' is under close supervision-feds watching her every move. No one ever turns to their neighbor and asks, "Do you think she's even guilty?"

I settled into my seat and attempted to get comfortable (or as comfortable as possible with your hands cuffed). I peered out the infamous plastic window and watched as the airplane zoomed down the runway. Then, magically, miraculously, took to the air. Every once in a while the plane would tip, allowing me a glimse of all i was leaving behind. Neat rows of colorful houses, Deep green fields, refreshing pools. The rivers, highways, and even skyscrapers looked miniscule- like the model cities i used to play with as a child. I closed my eyes and imagined i was a giant, with the capability of rearranging the whole world. The plane was quickly gaining elevation, but i was losing my home even faster.

There was no hope for me- no second chance, no shining beacon of light. Just a long and painful life in prison. The crime I had done was too great for anyone to take my side. There was absolutely no use in pleading my case, because I would not get any recompensation. So I had gotten used to the idea of living in a cold and lonely cell for the rest of my life. I figured it was for the best, since no one would look at me in discust. Actually, no one would be looking at me at all.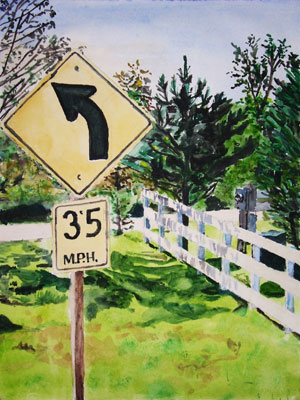 © Tim K., La Crosse, WI