I Am The Stars And Stripes
July 24, 2012
Hi, do you remember me? I am the stars and stripes. I represent patriotism, loyalty, love of country, and the American way of life. Oh I'm sorry, I thought these were familiar terms to you, but I see they are not. My colors are red, white, and blue. I have fifty white stars on a field of blue and of course, thirteen red and white stripes.  Each and all these things have a definite meaning to Americans. Not too many years ago, I was the proudest flag in the world but lately I have been a little less proud.  I have been burned, torn, and thrown in the mud, and it's a little humiliating. 
I remember some time ago- I think it was Memorial Day- people were lined up on the street to watch the parade. The high school band was behind me- naturally I was leading the parade. When your daddy saw me coming along, waving in the breeze, he immediately removed his hat and placed  it against his left shoulder so that his hand was directly over his heart. Remember? You stood beside him, straight as a soldier. You had been taught in school to place your hand over your heart,  and little sister, not to be outdone, was doing that same as you. I was very proud as I came down the street. The soldiers who where home on leave we're standing at attention giving the military salute. Ladies, as well as men,  were all paying me the reverence that I deserve. 
Do I sound conceited? Well, I am. I have a right to be.  I represent the finest country in the world. THE UNITED STATES OF AMERICA. More than one aggressive nation has tried to haul me down, but they all felt the fury of this freedom loving country. You know, you had  to go overseas to defend me. 
But what happened? I'm still the same old flag with a  couple of stars added since you were a child. Since that long ago Memorial Day a lot more blood has been shed. 
But now I don't feel as proud as I used to. When I come down your street, you just stand there with your hands in your pockets and give me a small glance and then  look away. I think of all the places I have been: Guadalcanal, Korea, Vietnam. And the children- they don't seem to know who I am. They continue to run around and play. I saw one man take his hat off, and when he looked around and saw no one else with theirs off, he quickly put his own back on. 
Is it a sin the be patriotic anymore? Have you forgotten what I stand for?  Who were those heroes? Your friends, relatives, schoolmates- theirs are the names on the Memorial Honor Rolls. 
Well it won't be long until I'll be coming down your street again. So, when you see me, place your hand over your heart, and you will really see me waving back my salute to you. Then, I will know that you remembered.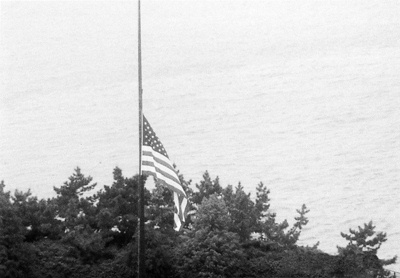 © Jessica E. Pelham, AL