Mother to Daughter
July 26, 2012
"Can I ask you something mommy." said the little girl.
"Sure peanut." said the mother.
"Why did you marry daddy."
The mother smiles at her little girl "Because I love him and he loves me."
"Well I love daddy and he loves me does that mean I have to marry him too?"
The mother lets out a laugh "No, he is your daddy; someday you will find someone you can grow old with"
"Old???" said the girl as she crinkled up her face and stuck out her tongue, "YUCK!!!! I don't want to be wrinkly."
"O my," laughing with joy in her eyes "all in time my little girl, all in time."

The little girl hugged her mom and ran off to go play with her sister. As she left she thought, I am going to grow old and fall in love, she shook her head. She never thought of the conversation until she was walking arm in arm with her frail daddy down an aisle with a handsome man at the end. To walk away a new woman and know her mommy approves as she is looking down from heaven.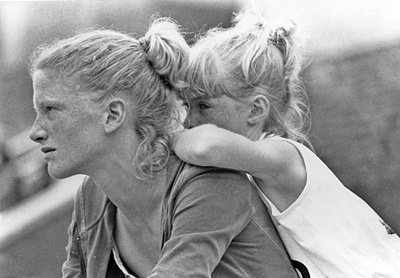 © Felicia F, Marlow, OK