My Name
July 18, 2012
Maya. In Japanese, it means truth. In Sanskrit, it means illusion. The two syllables that are so familiar, yet when I say them aloud, mah yah, they stick out like marching soldiers. Rolling off of the tongue of a friend, though, my name means so much more than any baby name site could ever tell. It's the smell of fresh rain on pine trees, the taste of a salty kiss from a black dog. It's the well-placed hit of a volleyball, the whistle blown, the game won. Those two syllables, they represent a person, one person. Me. I feel like I've been cheated when four other Mayas raise their hand at the call of a teacher. How can there be four other Mayas when Maya belongs to me? I remind myself, then, that there's more to my name than four letters.
Eileen. I love the sound of it, all the vowels hugging the lonely l and n. It whispers to the quarter of my being that belongs to Ireland. I have to go there someday, to find the piece of myself that's maybe missing and I just don't know it. This name, the middle, it's the Irish grandmother that I never met. The only bit of her I know is in a silver frame, dressed like an old movie star. I look at her faded, black and white face and sometimes I see me.
When I grow up and write stories, I'll use these names. Maya Eileen, it will say in dancing teacup letters. Rain, kisses, Ireland, grandmother. It will tell its own story.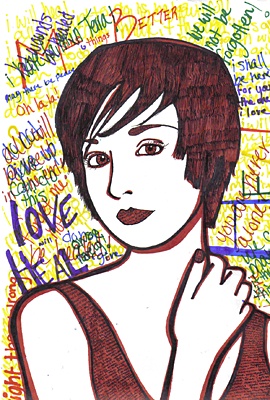 © Sara D., Aiken, SC