Our Draining Life
July 16, 2012
When I was little, my grandmother wove a tale for me, one that she had been told as a girl. It was of an old belief her people had, one where a recently deceased person would have their soul bound to a living tree. They would stretch their arms up, reaching for the lunar deity, Arianrhod and give their spirits to the Mother of Gods, Danu, praying that she will be kind enough to send them through the waves to Lir, where he will cast them a memorable, watery funeral. I was young, so of course I believed her.

I was twelve years old when she died. It was literally the day before my thirteenth birthday. Her death hit our family tremendously, and we were all mourning her throughout the two weeks following her sudden departure.

Truth be told, I was mad at her for leaving me behind, for not saying goodbye, for not living just one more day to see me reach my teenage years... She had ruined my birthday. For the longest time, I kept that hatred burning. For years, I was so selfish that I wouldn't even think of her on the anniversary of her death.

When I turned seventeen, I finally broke that five year grudge. My sixteenth year had brought maturity and respect. I wasn't as selfish when our celebrations rolled around that year, so I went to see my grandmother's grave site for the first time since the day of the funeral.

The cemetery itself was beautiful. There was a small brook running through it, along with the most majestic trees one could picture. My grandmother's grave rested under a small oak tree that we had been allowed to plant when she was buried. It had grown wonderfully in the past few years. It seemed so graceful and full of life.

A story came back to me at that moment. Everything was set perfectly. A tree beginning its long life just as another life ended. The baby's arms outstretched, reaching to her Celtic goddess and Holy Mother. My grandmother's life and spirit were being fed into the young oak, waiting to be put in the trusted hands of Lir. The brook gives the sapling life just as it carries my grandmother's away from her restrictive body.

She's free.

With this revelation, all of my anger drains from my body, flowing into the ground and being dispelled by the spiritual forces at work. I slump to my knees over my grandmother's grave. I know I should be crying, begging her to forgive me for being so utterly stupid, and for taking so long to visit her, but I know she's a peace with me. There are no negative feelings. I don't think I've ever been so relieved.

After spending five years hating someone you will never have the opportunity to make amends with, you realize just how much they must have meant to you, how much they still mean to you. There, at my grandmother's resting place, I get the courage to do what I came here to do. One quick swipe with the knife, and the grass blossoms red. On some level, I can feel my life force mixing with that of my grandmother's, and together, we feed our oak tree.

When she appears before me, my grandmother has a sad smile on her face as her eyes make raindrops on her cheeks. I know she did not want to see me again so soon, and definitely not like this, but everything had become too much. Besides, we all end up in the waves at some point in our lives, right? I give her a weak smile with the last of my fading energy as my world dims. My grandmother kneels to embrace me, and I give a true smile as my eyes slip shut.

???

It wasn't until later that I was found and buried, with my own young oak companion, just a little ways away from my grandmother. With my tree, I feel alive again. As my spirit is absorbed, I reach towards the stars, trying to find my grandmother's precious deities.

My grandmother appears before me once more. In front of her is a magnificent being of light and dark and earth and air. She holds an aura of otherworldly majesty. She smiles kindly down at me and extends her hand to me. Grandmother watches us expectantly, kindly, and I know now what had kept her waiting. Somehow, she had known this would happen. She had been waiting to guide me. I clasp hands with my grandmother and our goddess.

"You are ready," is all she says before the world around me dissolves in waves of crystal clear water.

???

Five hundred years later, in the ruins of an ancient human settlement, two lone oak trees stand brilliantly beside a nearly dried brook. It is evident that as the trees grew, through hardships and war, their limbs managed to tangle together, giving the illusion of joined hands reaching for something beyond the physical universe.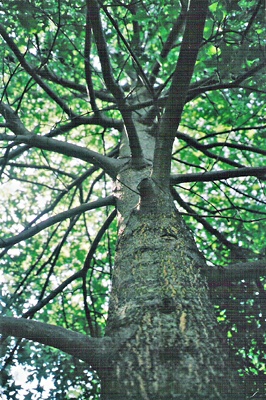 © Bhuvaneswari R., Sleepy Hollow, NY