Who I Am
July 15, 2012
Chapter 1: Lilith

BEEP!BEEP!BEEP!BEEP!

"Urgh." I growled, slapping the top of my alarm clock.

"You better be getting up, Lilith!" my mom called from the next room. "You don't wanna be late on the first day of the year."

I sighed. That's right, it was the first day of junior year. Joy. (Note my sarcasm to that last statement.) I kicked my layers of blankets off me and rolled out of bed. To get dressed, all I had to do was pick a pair of jeans up off the floor, grab a shirt and clean pair of socks out of the dresser, and slip my sneakers on. I passed a brush quickly through my hair and looked in the mirror just long enough to brush my teeth and put my eyeliner on.

I grabbed my mp3 off my desk, my car keys off the hook next to my door, and my fairly empty backpack on the floor under the hook. "Later, mom!" I called, heading for the stairs and front door.

"Have a good day at school, honey. And stay off the banister!" I climbed off the top of the banister before I slid down and stomped down the stairs, cursing under my breath about how moms have a stupid sixth sense.

I got out the front door and climbed up into my beat-up pick-up truck. As the engine clunked to life, I started thinking, 'Maybe this year will actually be interesting.'
----
I was really early when I got to the high school, so I went to the library and plopped into a desk in the middle where I could see the door. I put one headphone in, pulled my unfinished summer homework out, and got to work.

"Excuse me." I heard. I looked up and at the library drop-off desk was /the/ cutest girl I've ever seen.

She was definitely shorter than me, probably only five feet tall. She was pretty thin and slight, almost pixie-like. Her hair was an auburn red with hints of brown, the ends reaching her ears and flipping outward. On the right side, her right, two black pins held her hair back. She had on a crimson red tank top and jean shorts, revealing smooth, tan skin, and flip-flops that showed her little, delicate feet. She lifted her head, showing me big, round, leaf green eyes, enhanced with some black eyeliner.

Oh, yeeeeeaah. I should.....probably mention that I'm......a lesbian.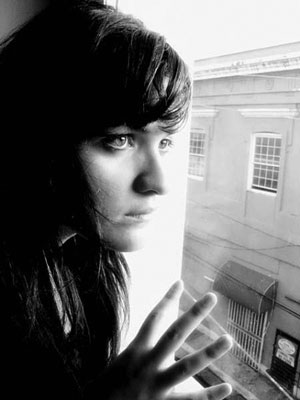 © Eveliz V., Bayamon, Puerto Rico