The Weight of Unspoken Words
July 9, 2012
I spent every day of the week after my father's death in his closet. I would press the white cotton of his shirts against my face and inhale the smell of his fading cologne. I wanted to hold onto him with everything I had. I didn't know how to let go, how to say goodbye.

He hadn't finished teaching me how to drive. He never taught me how to parallel park, to merge on a highway, or make a k turn. "Next week," he had promised because the sun was setting and he didn't want me driving in the dark. I should have argued. I should have forced him to stay a little longer.

The day it happened, he had a banana nut muffin for breakfast and coffee. He sat at his computer while he ate, and I watched him from behind the counter. He was always working—six days each week, except holidays. Sundays, we went driving. When I was ten, I asked him why he worked so much. "Because I love you," he said, but what he meant was that we needed his income to make it by.

"You ready to leave?" he asked as he folded up the muffin's wrapper and placed his mug in the sink without washing it.

I nodded and we left. The car ride we took to school was precious—every moment was infinitely valuable. I savored every one of our conversations, regardless of whether they about his work in the hospital, our dreams to move into one of the huge apartments overlooking the city, or the mundaneness of another day of school. Each ride ended the same way, fifteen or sixteen brief minutes later. He would say, "Have a great day! Make the best of it! I love you!"

And if no one was around as I was getting out, I would say, "Love you too," and gently close the door. But there were people that day, so instead, I said thanks.

When I got home, my mother sat at the counter, gripping the phone in her hand tensely. Her expression was stoic, yet her flustered cheeks glistened. I can only imagine how many times she rehearsed it in her head before she told me what happened.

I emulated her stoic expression, walked stiffly into my room, and collapsed onto my bed. I couldn't bring my body to move. I bit the inside of my lip so hard that it bled. I fell into the rhythm of the gentle trembling of my body and remained lifeless throughout the night. In the morning, my throat was sore, my mouth dry, and my skin itchy.

I pulled myself up and dragged myself into his closet, closing the door tightly behind me. I stared at each of his shirts, imagining all of the events he had taken me to in each one in his limited time off. I held the same green polo shirt in my hand that he had worn while setting off firecrackers on the fourth of July.

The smell of the burnt ash on the shirt was enough to finally bring me to tears. I cried, bawling into the fabric. My mother stood outside the door, afraid to come in, afraid that she too would cry.

The two of us ate every meal together that week in silence. One tear would be enough for the entire house to fall apart and cave in on itself. No one asked the questions we were both wondering. Who would pay this month's rent? Who would drive me to school? Or teach me to drive? Or make cheesy jokes at dinner? Clean the coffee cup in the sink? Remind me that I was loved each day before I went to school? Keep the apartment stable when the wind blew at night?

I was too young and mom was too broken.

We would need to learn to live without him.

It hurt too much to think about.

I should have asked him how to keep the house stable at night and how to comfort mom. I should have told him to stay a little longer and teach me how to drive. I should have told him that I loved him. I should have said goodbye.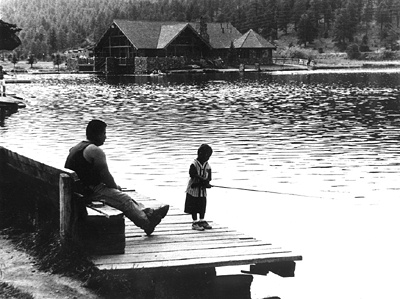 © Ryan P., Greenwood Village, CO