A Word
June 30, 2012
Her eyes are bright as she sits in the starch white hospital bed. Her body looks petite wrapped in the thin waffled blankets. She gives a chuckle as her grandbaby runs in circles. Her daughter sits on the edge of the bed, joy masking the terror written in her eyes. Cancer free dances on the lips of the elderly woman.

"It is only a word," the daughter says reaching for her mother's frail hand.

"An amazing word," the woman replies. The daughter gazes at the strong woman sitting in front of her. The woman that tied her shoes taught her the ABC's, and made all her injuries disappear with a kiss. This woman was just a costume of what her mother used to be. The dark thick hair that once flowed down her shoulders was replaced with duckling down that sometimes pirouetted down to the bed. Her troubles were engraved in her face. Her husband had died years ago in combat and only her daughter and grandson were alive. Cancer had shifted their lives so greatly that none of them remembered a time when the lady was healthy and alive. The lady leaned over to her daughter and kissed her on the forehead, taking her wounds away once again.

"And don't you ever forget it," the grandmother said. Her grandbaby ran to the bed and threw himself up with them. Hope was with the family and none could fathom what life had in store for them after their years of struggle.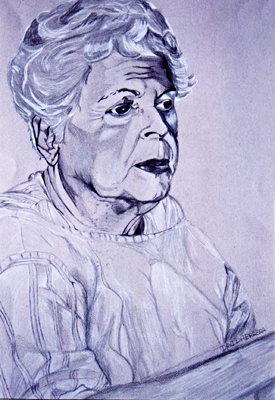 © David H., Kannapolis, NC