Behind the Laughter
June 25, 2012
An accordionist.
Two sets of twins.
An angry wife.
And the kisser.
What a very strange bunch. They were gathered in a ring. It was the first time they had been together as a group in over a month, so of course an inch of nervous energy stood in between them and the ground. A football of sound was thrown across the circle, it was aimed right for the kisser. A huh escaped her lips, from the pool of vibrations lying underneath all that gushy stuff you might call fat. But I don't like to think of it that way. It isn't fat, not really. It is more hug-ness. The hug-ness is what makes her so motherly. That and the kisses. Which is why it will be so hard to take her away. But that isn't for another few decades.
Now we come to the twins. The program says none of them are related, but the brown shirts and polka dot shoes tell me otherwise. Now there are two sets. Two servants and two masters, one might say. I disagree. Clowns and Straight men. Now that sounds better. The shorter clown makes a joke about a leather coffin. She thinks it is funny. So does everyone else. They don't understand. And the sadness that comes as a repercussion to my actions? They know nothing of it.
The Accordionist. She was pink from head to foot, yet her hair was red. It matched the accordion. I could see the life it breathed into her. I could see it in her eyes, in her smile. She in turn breathed life into someone else. Someone who, until this scenario, walked and moved so slowly I was in agony every time I heard him speak. But now, for this straight man, his eyes lit up when she played. The beautiful brightness in their eyes matched, and he knelt and stroked her hair. It was like a circle of breath getting passed around. And this poor accordionist had no idea how much life she gave him, she just played and played. She and her lover will also be hard. I am dreading the day.
Now her poor sister. She could be so lovely. So soft and cuddly. So friendly. But she made the wrong choice. When things got confusing, she stamped her foot and became so adamant the red heads couldn't even comfort her. Her footsteps are still in the room, waiting for her to come back and make better choices next time. Maybe she won't be so clingy, climbing the straight man's arm like a vine. Maybe she will have a nicer character by then.
Now what do these people have in common, you might ask?
Nothing.

Nothing but the colors of their costumes.

And the laughter.
And the town. They all met in the same town. Epidamnun, Epidarus, Ephesus. Different words to name the same place. The Idyllic life in Ephesus is almost fairytale like. When the Accordionist stepped off the train, the twins out of the car, and the kisser got off the bus, the rest of the world disappeared. The small room known as Ephesus became their home. They gathered together in this microcosm for the same purpose. They were all gathered here for the same reason. To worship and desecrate the same words that have been said for the past 400 years. The words of the Bard. They were all gathered here for the same reason. They were putting on a play. A play about twins, about love, about accordions, about everything they were in real life. So it wasn't acting, it was twisting reality. But they only had to twist it a bit. So I guess they do have a lot in common.
The football of sound finally landed on the kisser's bare shoulder. She in turn threw a football of sound across the circle to the straight man, and he sent it to the accordionist, to show how grateful he was for the life she gave him. This was all part of a strange warm up for the play. Tongue twisters and shake downs filled the cold concrete walls that surrounded Ephesus. The voice and movement was combined into a strange interpretive dance. They were warming up their instruments for the symphony of sound and movement their bodies would later perform. They were getting in tune.
I wonder what would have happened if I had let the bard live a little longer. Maybe they wouldn't be performing Comedy of Errors. I know a lot of you wanted him to stay alive, but it was time for him to go. You would be missing out on something because I don't just randomly choose souls to steal. I always have a reason. What if I hadn't taken away his only son? Then we wouldn't have Hamlet, and that would just be too terrible.
Dear Shakespeares,
I do everything for a reason.
Please
Don't judge what you don't know.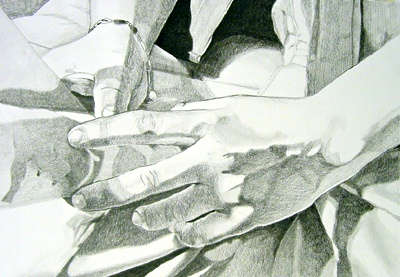 © Leidy E., Spartanburg, SC