Like the Magazines
June 28, 2012
I don't like my hair. I really do not. I think it looks like a ginormous tangle of yellow worms. And grown-ups are always patting my head and saying, "What a head of hair on that girl!" And it makes me feel like I'm a little dog, being patted like that. But the worst part is- I know what they're all really thinking. That I'm the ugliest little girl they've ever seen and that I'd make a better poodle. I know it. Because I see all the pictures in Mommy's magazines. And those girls, they all have hair just like my Barbie dolls. Long, shiny hair that falls perfectly down their backs. Not one curl. Perfectly straight.

So yesterday in the bagel store, when that big lady patted my head, I decided I wasn't going to take it anymore. When we got home, I headed straight to my room and grabbed my new green scissors. And I chopped off every single one of those fat, ugly worms. I giggled as I watched them fall to the floor, enjoying their last squirmy wriggle. And when I looked in the mirror I thought, NOW I am pretty.

I was so excited, I sprinted downstairs to show my mommy that she really did have a pretty daughter. And not a poodle. But when Mommy saw me she didn't look very happy. She even started crying. I guess it's because I still don't look like the magazines.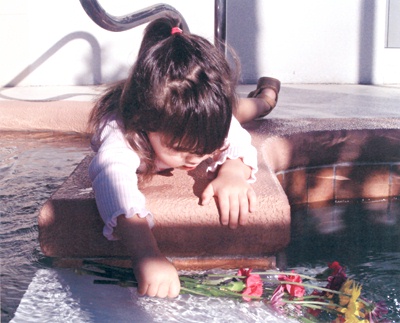 © Courtney C., Palm Coast, FL