lost in Thought
June 23, 2012
My mind is a very strange place but it never seizes too amaze me. Somehow whenever i'am alone or even with people, I some how always find myself either thinking out loud or thinking too deep. I don't know why this happens but the mind of Jessica Fendly is a very active, unusual and a rather creative place to be. 

Take yesterday for instance. I was bored, sitting with my parents and their ever so dull friends- and the topic of the day was...traffic. They always liked to complain about traffic. My parents are unbearably normal. If they are not complaining about traffic, they are either talking about work, the news or gossiping about some sad person that they obviously feel sorry for. 

Right...... now back to my boredom. So as I sat there completely out of my mind, I started wondering what life would be like if every male human being had a large blue Afro and every girl human being had a large purple Afro. I know that sounds wonderfully random but I think that type off thing would be so completely unexpected that I would no longer have to look for something to laugh at anymore. See I know what your thinking if every girl had a prurple Afro then wouldn't I have one too? Well no. My look would be one hundred percent different from everyone else. Why you ask? Because my look is already different from a lot of people that I know. 

I like to be original, almost every single month. One month I'm goth. Next month I'm girly. Next month I'm a tomboy. The next month I'm a supermodel and so on and so forth. My constant change of style has been going on for over a year now and since my parents are super rich I can pretty much do whatever I like whenever I like. 

Now back to my world of blue and purple Afros.As I thought off this rather odd senerio I continued even further into my own pool of insanity. If all humans can change then why not the animals too? So I figured all dogs could wear colourfull poco-dotted hats and have holes on top of them for their ears to fit through. Not only that but all the birds could wear dresses, the cows could wear pants suits, the horses could wear a whole lot of jewelry, the cats could wear bow ties and the rabbitts could wear pijamas. Haven't thought much about the other animals but that's all i've got so far. 

When I was threw thinking about the animals I thought about the plants. Instead of them being green and brown and the usual unattractive colors they could instead be in black, white, pink, and red. The water is now filled with jelly and the sky is now filled with cotton candy clouds. Day time is now gold and night time is now electric blue. 

This new world that I have now created in my weird but lovable mind, pretty much sounds very strange, odd and more or less eerie in most cases. I then wondered if I would actually enjoy living in a world like that....I guess not. I would probably wake up everyday with a sense of uncertainty and self-indulgence. I thought about how lost I would be and how confused I would be as well. being surrounded by all that, would be  just plain scary. 

After I comforted myself with that conclusion I went back to the awesomely wonderful, world filled with all sorts of people, animals and places. Then just when I could make out what my parents and their friends were talking about my mind wondered off yet again. I know what your thinking, I need help - don't I? Uh well...if only you knew but to be honest I'm actually happy with myself...I will admit sometimes being me can be quite troublesome.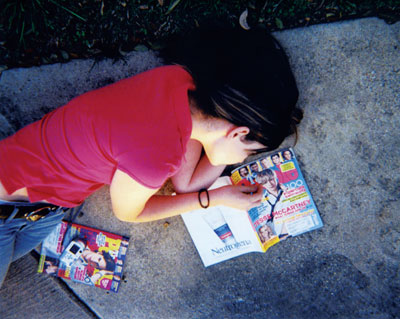 © Erin W., Highland Village, TX