Call Me Rudolf
June 19, 2012
This time of year reminds me of you. We'd sit outside in coats twice our size talking about SpongeBob and yu-gi-oh, you know, important things. You laughed at how I'd say Squidward's name funny, I'd steal your hat, and then we'd both fall to the snow-clad ground laughing. These are the first memories I have of liking you.

When we got a bit older, we decided that the snow wasn't for us. Instead we sat inside by the fire. You'd call me Rudolf because of the color the cocoa turned my nose. I laughed but secretly, I hated that nickname. I never told you that.

The next year we made a fort out of cushions. We spent hours lounging around in there bundled up in blankets and pillows. I'd tell you you looked like a mummy, and you'd pretend sulk to yourself, feigning hurt. We'd laugh it off.

The next time around, you had learned to play guitar. We spent hours singing to awful pop songs. Once you even told me my voice was pretty. I laughed at how wrong you were, but continued to shake the maraca. With hot air blasting through the house, we held mini concerts for our family members and close friends. They weren't impressed.

Then things changed. You found another girl to love and I was thrown in the back-burner. You'd tell me I was always special to you, but I didn't see you as much. With her, you two relived our past. I wish you would have called me Rudolph one last time.

As much as I tried not to, I liked her. It wasn't hard to see how you did too, but I didn't like knowing I could be replaced like that. Her face showed in every picture I had painted of the two of us, but I wasn't the one to paint her in.

I knew our time was limited and our goodbye was fast approaching, but you didn't seem to think about what that might mean for me. As that day got closer and closer, the time you spent with her increased. My lifelong friend would soon be gone.

You promised you'd visit. You'd call all the time. I couldn't imagine life without you, and you couldn't wait to leave. I knew you'd love where you're headed, but saying goodbye was too much to bear.

No matter where we are, this time of year will always be ours. The sight of snow itself brings the fondest memories. I love you so much and I couldn't have asked for a better brother to spend my winters with.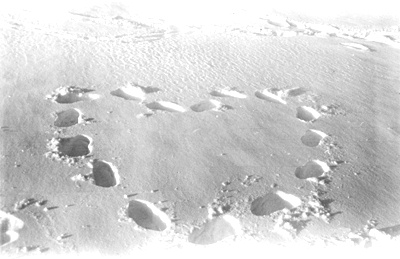 © Kim B., Marblehead, MA