War Cry
June 12, 2012
Janet beheld Braxton's sullen blue eyes. This was the first glimpse she had captured of him since he had left that November night, but this fore-longed confrontation would also be their last for several months to come. Braxton returned his wife's yearning yet sorrowful gaze. He lifted his coarse hand to touch the soft flesh upon her delicate face. How he had missed her, Janet, the love of his life, his best friend, and the woman who stood by him through thick and thin. He wanted to grasp her in his hold forever, but he only had this one day, this one night, before he had to return to fields of crimson and smoke.

With a tender stare, Braxton watched Janet, his beautiful angel, for a moment longer. His war-stricken fingers caressed her cheek. Janet laid her hand upon her husband's, tears of reluctance beginning to flow from her chocolate irises. Why did he have to leave? She wanted to see his face when she awoke every morning, and every night before she fell asleep. There was never a moment that went by that she didn't think of his face; the face of a soldier, her soldier. Would she ever get to see it again? Janet's tears flooded into a waterfall at the thought of losing his perfect face.

Pain flashed through Braxton's eyes, but he could only quietly stifle a smile. Gently, he drew his weeping sweetheart into his embrace. Janet buried her face into his strong shoulder. Her sobs became muffled by the shirt he wore. Braxton could only listen soundlessly while his hand rubbed her back. Neither of them wanted to leave each other's presence, not now, not ever. They stayed there, holding each other in perfect comfort and silence, together, for what seemed like a time that never ceased to end. As the hours of the evening achingly faded into the next, the couple became weary, and they were lulled to sleep by the ever dwindling night.

At the sounding of dawn, Braxton packed to leave and go back to the war in Vietnam. His heart was telling him to stay, but he knew had the inevitable duty to protect the innocent and the weak. Halfheartedly, Braxton glanced at the woman lying asleep in their bed. He fondly stroked his lover's rustic red hair.

"I promise I'll come back to you," whispered Braxton softly into Janet's ear while lightly kissing her head.

After another moment at her bedside, Braxton left their humble home with Janet still sleeping without a sound in their bed. Their twilight eternity had been severed by the knife of war once again, but they would be reunited once again by a soldier's promise.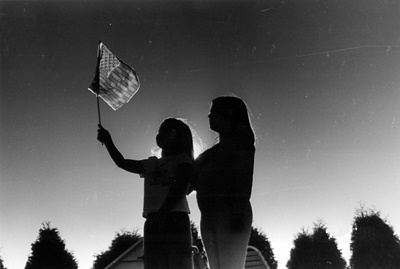 © Amanda T., Marblehead, MA