Untitled (Unnoticed)
June 7, 2012
In a one-story house in the suburbs of San Francisco, a couple lives with their two children: Lily and Phil. Having met as a nurse and soldier in Berlin in 1945, their house is now appropriately built from recycled army barracks. A short driveway leads to the four brick steps beneath the front door. A patch of blackberry bushes lies adjacent. For years, the mother would snap photos of her sprouting children with a Kodak Brownie 127. Pictures are said to preserve memories, but this doesn't apply when decades have passed and no one is looking at them.



Twenty years later, the house is hidden in shadows. What once was a garden is now an overgrown patch of weeds. What once was a neatly built overhang for the family car is now a crumbling mass of wood. What once were the voices of two young children and their parents is now a tangible silence. The man who lives there today is the neighborhood recluse. His tanned, wrinkled face displays a constant expression of bitterness and resentment. He is Phil: the son left behind.
Across the street lives a 15-year-old girl named May Combs. Curious, intuitive, and adventurous, she thirsts for the unknown. But suburbia does little to quench this thirst. She likes to observe Phil from her garden. She thinks of his life as a mystery and discovering more about him is an adventure for her.
Sitting on her favorite rickety, moss-covered bench, May watches Phil come and go from his house. He never has any visitors. It is one of many hazy summer afternoons that May spends in the garden: watching, listening, thinking. Though she feels the tingle of a looming sunburn, she is so mesmerized by the blissfulness of the garden that she remains. Draping clouds of wisteria vines surround her. Thickets of roses line the narrow path that weaves from May's front door to this bench. She is Mary Lennox in the secret garden. She is Scout searching through the hollow of the oak tree. Phil is the Colin Craven or the Boo Radley of her daydreams.
May awoke from her reverie at the slam of Phil's front door. Preoccupied within her wandering mind, she hadn't noticed him walk up the street.
She wanted to know more about this man. All she had ever been told was to stay away from him, to pretend he didn't exist, to ignore him. She sensed anger built up inside him from years of torment and loneliness, but why? Why was his name always uttered in a hushed tone and what has troubled him in his life to make him so alone?


Months later, sitting on her bench, May saw an unfamiliar woman approach Phil's doorstep. She had sleek brown hair, with a few visible strands of silvery gray. She carried a pie. She gently placed it on the brick doorstep, lingered for a second, and then walked away. Over the next few months, she returned occasionally. But it wasn't until the fifth visit that she knocked on the door.
On a brisk October evening, the woman's pearly white Volvo 240 parked a short walk away, as usual. May heard the car from inside and rushed to the garden bench. She sat with her knees to her chest and snuggled her face into her folded arms. The woman's light footsteps on the pavement reverberated in the eerie silence of dusk. May watched as the woman, her arms empty, walked to the door and knocked timidly.
"Phil? Phil, it's me," she yelled. She looked around self-consciously, suddenly aware of the silence.
Disregarding any notions of eavesdropping, May tiptoed down her driveway and hid behind the hedge that surrounded Phil's yard, making sure to stay out of the woman's sight. She heard the clicking of locks and the rattle of a rusty screen door opening.
Phil spoke in a raspy voice. "Lily! Come in."
The screen door rattled closed as Phil and Lily's voices became indecipherable. May sat down and mindlessly picked a leaf off the hedge, tearing it along its center and attempting to create two equal halves. It was only five minutes before Lily emerged from the house.
May leapt to her feet in a panic, but before she could plan what she was going to say, she was face to face with Lily.
"Hello," May said, uneasiness evident in her voice. "Are you…?"
Lily eyed May suspiciously and said, "My name's Lily. Phil is my brother."
"Well, I live right there," May pointed to her house across the street. "All I've ever been told is to stay away from Phil. But seeing you visit him has made me reconsider who he is and what he might have used to be. "
Lily smiled. "Let me show you something that I just picked up from him." They sat down on a stone wall at the next house and May noticed a small rectangular box in Lily's hands.
She opened the lid of the box to reveal a pile of photographs. Years of neglect had left them dusty, crinkled, and stained.
"Not many people see a person like Phil for more than he appears," Lily said.
At the top of the stack was a picture of Phil's house dated 1962. Without the overgrown bushes and piles of junk that now cluttered the yard, it was unrecognizable. The two of them sat in silence as they sifted through the rest of the photos. There were images of Phil with his family and friends: biking, playing baseball, posing in front of the stairs on the first day of school.
May smiled at his goofy, animated grin. Her perception of the man was shifting completely. In the little boy's face, May saw happiness. She saw innocence. She saw a child who probably had hopes and dreams for his future. Without even being told, May knew that Phil had been through a lot. People had treated him badly. Life had treated him badly. He was always the one at the wrong place at the wrong time. But these photographs of what his life used to be gave proof of Phil's humanity.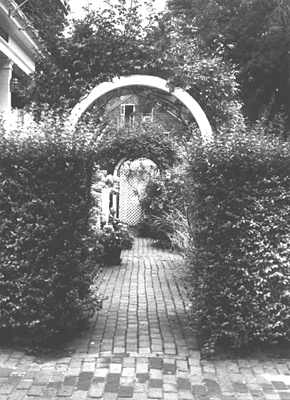 © Nicole E., McLean, VA