The Swing
June 6, 2012
As I shuffled down the road, my only thought was getting home without catching a horrible case of frostbite. The wind whipped my face, hands and ears; every area of exposed skin was furiously stinging. With every step, my toes throbbed more and more. The frozen appendages on the ends of my wrist could no longer be called fingers. That word would have implied that the nubs attached to my hands were still serving a purpose. Instead, at that moment, the only thing they were capable of was facilitating copious amounts of pain. The force of the wind assaulted my eyes, angrily; it felt like acid had just been poured into their sockets. Due to the pain, I did not attempt to halt the bitter tears, that slowly streamed down my face; my nubs were powerless against the silent waterfall. I became acutely aware that water wasn't the only liquid tainting my frozen face; my nose was beginning to run as well. I didn't have the energy to do anything besides giving a few pointless sniffles. At that moment, even the smell of crisp pine trees offended my nostrils. The potency of their fragrance seemed too divine to be present amidst my agony. I tried to convince my aching body to move faster, but, in a display of resounding insubordination, it refused. Despite my efforts, my feet continued to stumble forward at a pace that rivalled the oldest snail.
I silently cursed Mother Nature for attacking me with her foul weather. I wanted nothing more than to be inside, to bury myself in my soft cavern of blankets. For a few lingering moments, I allowed that promising thought to be my only solace. Suddenly, my optimism was crushed by the thought of the responsibilities that were awaiting me at home. A montage of dirty laundry, unwritten assignments, filthy dishes and an untamed younger brother filled my mind. It dawned on me that my treacherous walk home was only the beginning of my nightmare. When I arrived home, I would surely be attacked by a cavalcade of accusations from my parents. "Where were you?" and "Why are you coming home so late?" would welcome me at the door. I'd be ushered in by "None of your excuses!", while "I've had enough of your disrespect!" would certainly be served to me in place of milk and cookies. I wondered why I was even bothering to rush home. No matter what time I arrived, hostility would surely be there, waiting for me. I paused to consider the fact that perhaps the freezing cold I was battling outside was better, far better, than the coldness that awaited me inside my own home.
That's when the realization stopped me in my tracks. The coldness that I was trying to escape wasn't brought by the wind, nor was it harboured in my home; it was concealed inside of me. Long before, I'd started internalizing my anger and I'd begun to carry bitterness along inside of me like a babe. It dawned on me that my discontentment was caused by no one but myself. I wondered when this had all began. At what point of my life had I transformed from a cheerful little girl to the indignant young woman I now was? I could find no answers inside of myself, so I began to look around me. The cruel weather was no longer my biggest concern; I had to have my questions answered.
For the first time in my journey I looked up, and I found myself standing in front of my old neighbourhood park. I was overwhelmed with nostalgia. It hadn't lost any of the magic that had belonged to it since I was a child. The park kept still, silent in its patient majesty. Although it was lonely and abandoned in that moment, it seemed to know its time would come. Flecks of golden sand shimmered underneath a thin layer of frost. The swing set stood boldly despite its chipping paint and rusted hinges. The blues and yellows were littered with patches of black, but still, it beckoned me just as it did years ago. I tried to resist; I told myself it was foolish for a sixteen year old to dash towards a child's swing set. I recalled my responsibilities and I thought of the time I'd waste. However, after a few moments of silent deliberation, my childish instincts took over.
As I veered off the side walk, my ears were alerted to the familiar soft crunch of grass underneath my boots. My eyes darted from the swings to the tiny teeter-tooter. The fire red metal contraption still squatted in its corner. Then, my gaze fell upon the robust jungle gym. It stood so pronounced and bold, waiting for a child who would accept its challenge. The assemblage of slides, monkey bars, bridges and climbing ropes mercilessly teased me. Yearning propelled me forward; like a cannon, I dropped my bags and bolted towards the rainbow paradise.
Just as my bare hand grasped the algid railing, my attention was stolen by a faint creaking sound. My head flew around, eager to locate the culprit. I was pleased to find that the noise had come from an old friend. The swing sets on the edge of the park repeated itself with another tired moan. I quickly turned from the jungle gym and headed towards my dear companion. Easing myself into the familiar park swing, I started reminiscing. I thought back to the days I would race towards that same swing, with my feet hitting the pavement one after the other, barrelling towards metallic happiness.
As I had been an only child for the most part of my childhood, I was partial to the swings; they were the one playground activity that could be thoroughly enjoyed in solitude. How many August afternoons had I spent bonding with the swing? Only children know of its magic; the swing can take you to new heights in ways that an adult would never understand. If you were to close your eyes on a swing and allow yourself to give in to the moment, you could savour the euphoric sensation of flight. With your head to the clouds and the world miles behind, you would start to envy the birds. You would crave their ability to experience the miracle of flight whenever they please. As I rocked back and forth in the wind, the swing whispered to me again. I closed my eyes, inhaled the sweet scent of pine and allowed the swing to teach me once again, once more.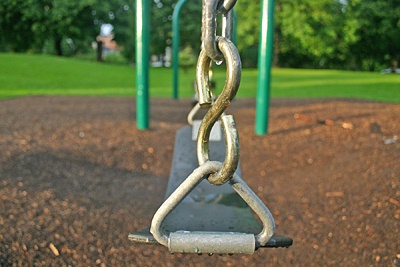 © Faith E., Albany, NY