Tired Of This
June 7, 2012
The world flashed by. I hugged the thin jacket close to my body, trying to keep in the warmth. The cold seat underneath me shook with the movement of the bus. The scream of laughing voices drifted up to me. I looked into the back of the bus, watching as two boys wrestle each other to the ground. The advanced towards me, still holding each other's collars. One swung the other towards me, flipping him right on top of me. The winner waltzed back, whooping to his friends. The boy next to me opened one eye, saw me, and jumped up.

"I'm sorry, I didn't mean to-"
I cut him off.

"No need to apologize."
He was obviously stunned that such a little-looking girl could have so much strength in her voice. He stared for a moment, and then stood up. The bus lurched to a stop, and he pitched forward. I stood up and looked outside, eager to see where we were, but there wasn't much to look at. An open desert lay under a purple-blue sky, and the only living thing was the bus driver filling the tank. I would jump out of this window, run free and forever, but there's no point. I would either be caught or die of thirst before I got anywhere……….

It was dark when I woke up. The bus was quiet and still. A slight breeze flowed in from a nearby broken window, giving me goose bumps. I shivered, hugging myself. I sat up, trying to look outside, only to be stopped by something landing on top of me. Something large. It pressed its hand up against my mouth and held down my flailing body. I eventually relaxed, but was still ready to fight. I studied the thing restricting me, or shall I say, person restricting me. The person hand a bandana around its face, and was leaning on me. I could tell the person was a girl. Her green eyes searched my face, one finger planted on the outside of her bandana. She made a small shushing sound. I nodded. She stood up in front of me, in the aisle, and pulled herself into the seat in front of mine. I watched as she catapulted herself out of the broken window. She landed silently, and started running along the mountains of sand. As the sun started to come up, she reached the highest hill. She stood on top, her figure becoming more illuminated by the second. When the sun broke the horizon, she took off her bandana, and waved it, as if to say goodbye. With one final scream of victory, she launched the bandana into the air, and disappeared beyond the sunrise. As this transpired, a feeling of hope blossomed inside me. I knew that one day, I would be free.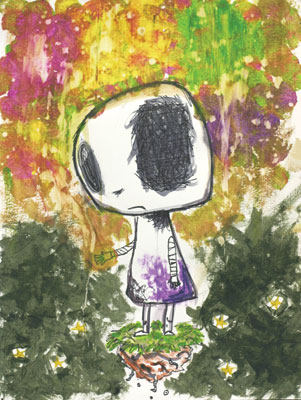 © Ashley W., Port Charlotte, FL