OCD... Or Else.
June 4, 2012
The blaring beeps of her alarm clock wakes her up. She rolls over to turn it off. 5:02AM, the minute of the hour she awakens to must always be even or else.

She pulls the metal string to her lamp four times off and on, off and on. Before she keeps it on. She begins her typical morning routine. Off to the bathroom to take a shower, fix her hair, and get ready for another day at high school.

As she enters she turns the knob twice only before opening the wooden door. Light switch must be flicked off and on off and on two times too. She has always had this habit with even numbers. The sink gets turned on and then off, then again two times before she lets the water run onto her palms. Same ritual for the shower. Or else.

Right sock before the left, right shoe before the left. Right leg must be the first to enter her denim jeans too. Left arm in her shirt before the right, always. When she walks down the stairs her left foot must go before the right. Or else. Peculiar.

She walks into the living room to turn on the news the volume must be on an even number or else. Same mug every morning since for 7 years, she cannot use a different one. Or else.

Her mother asked her if she took her medication yet, she shook her head no and pointed to her wrist three more times, as if to signal not time yet.

Every since her parents divorced when she was 9, she began these peculiar habits of all numbers must be even or else she said. She has a certain way she has to get dressed or else she said. You cannot say the words, "never, hate, or gone." in front of her without her screaming "take it back!" The doctors said it was a type of OCD that was triggered from the divorce.

"Its time to go." She said as she pushed in her chair then back out then back in and out once more. Her mother kissed her cheek and off she went to school.

As she walked to the door she gripped the handle pulled it then closed it and pulled it again before entering. Every day she counts the tiles to her homeroom class 74 exactly. Her combination to her locker left 4, left 8, right 28, right 16.

Everyone knows she has this strange disorder. Only her closest friends understand, once in a while they will ask what will happen if it is not even? She does not like to think about it or talk about it.

She will forever have OCD... or else.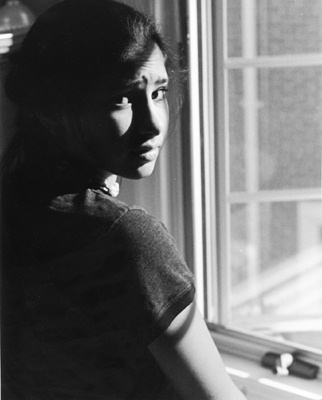 © Jennifer H., Bethesda, MD