The Girl and Her Fox
June 4, 2012
The sun laid its head down as the moon awoke from it's long rest. The stars began to play in the dark black-blue grass of the sky as the temperature begins to lower as to give full view of the beauty in the sky.

Down upon the real grass, that is slowly accumulating dew sits a girl of true beauty, with red hair, green eyes, pale skin, and lips of natural red. But as other stories go, she isn't alone, with her is her life-long and only companion fox. This fox was red as well with a white tip on his tail. His eyes were as green as the grass and had depths that could fit the world.

The day the girl was born, her mother died during birth and her father was out hunting. While her father was out he came upon a tiny fox that had just been born, its mother was laying next to it slowly dying. As the hunter came upon them, the mother looked at her pup in worry and tried to move but she was too weak. The hunter slowly crouched down, put his bow and arrow aside and gently pet the dying fox. She sensed that he wasn't going to hurt them and relaxed a little bit before she took one last painful breath and left the world.

The hunter then looked at the much-alive tiny fox and knew he couldn't leave that defenseless creature alone to die. So he wrapped it up in his pocket rag and brought it home. When he reached home, he found his oldest child holding his youngest child next to their dead mother. With this sight he fell to his knees crying.

Years have passed since then, the oldest daughter had died of Small Pox that luckily didn't spread to the baby nor the father. The youngest, now only daughter, is 13 years old. She is playing in the very same field this story opened with. But she had someone besides her fox then, but not for long. 13 days after she turned 13, her father went out to hunt and when he didn't come back she went looking for him, and found him laying under the tree they buried her mother under, dead.

So she lived by herself, with her fox and raised herself.

Every night she watched the sun go to sleep, the moon awake and the dance of the stars. She strived to see her family within the stars, playing together and waving to her. And every night she fell asleep under the open sky with her fox wrapped up on her chest.

And this night, our introduction, was no different. She was looking for what she lost, without any sadness, and without any words.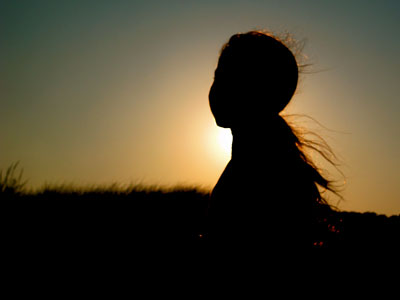 © Barrie T., Scarsdale, NY