Far Below
May 30, 2012
"You're just too far below average!" I heard it all the time. People told me daily, and my parents and sister drove the point home every morning and evening. I was too far below average. Why? Why was I below average? And how did that give them the right to rub it in? Many days I just wanted to leave. To leave and never look back. And I would, if it weren't for my new baby brother. He was sweet and adorable... and the only one in the world who doesn't call me names and laugh.

The day it all ended, I skipped school. I didn't want to face another day with Stacia and Kelly telling me all about my low IQ. They didn't know what was going on with me. They had no idea how hard I worked to stay below. I could be top of my class if I worked at it. My father would love that. Maybe the insanity of it all would stop if I tried, but I couldn't bring myself to care anymore.

I went to my favorite place in the world; my grandmother's grave. She was buried in a valley just outside of the town we lived in. She always supported my decisions, and never said anything about my failures or lack of attempting anything better than a C-. She loved me, unlike my parents. She let me be who I wanted to be, and she understood that I needed someone to love me without judging me. She was that perfect person, and I was convinced that I'd never find anyone else like her. I loved her so much. I still do.

Kneeling on the ground and crying, I felt a hand on my back. I looked up into the eyes of the only loner our school has (besides myself), Aylek. He smiled and sat beside me, pulling me against him. I tried for just a moment to get away; then I just relaxed. I leaned into him and thought about how much I wanted it to end.

"Don't think like that. I know you are. There is always something to live for, and the torture doesn't last forever. I'll teach you how to fade into the background. Then no one will notice you to tell you that awful phrase," he whispered to me.

"But how do you know?" I asked.

"I was below average too. I had the same problem. After I faded into the background, I never heard it again," he told me. "But do you know what's better than fading into the background? Being a part of the crowd. You could work just a little more, you could fit right in and have friends," he added.

"I don't need friends. I have you," I whispered, content and willing to live another day.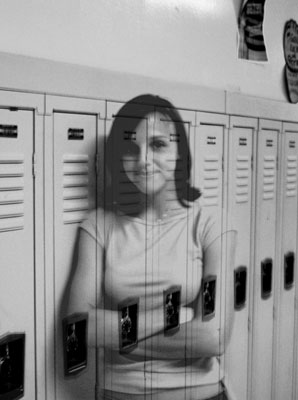 © Amy D., Troy, OH