What to Believe in ?
May 24, 2012
Chapter 2: Believe in Life
The Hospital was dead silent. Nurses and Doctors walked the hallways dressed in uniform and papers on their hands. The whole setting reminded me of death.
I remembered a few things from my past, and the bright hospital lights were one of them. Why they try to bring light to a place where most people come to die baffled me.
A man and a woman came in looking furious-they stood out from all the sad faces like a black widow spider on a powder blue wall. The woman wore office attire- A pink cashmere business suit and black heels. The man resembled her attire a bit-a black work shirt, grey tie and black dress pants.

Their facial expression did not match the expression of most. At a hospital you would think they would be teary-eyed or downturned lips. The lady had fist at her sides, she was red in the face, and had a clenched jaw-at this point steam should be coming out her ears.

Blair stood up, as they approached us. I wiped my tears and moved the hair that stuck to my face. Standing up I plastered on a smile and in return got a slap to the face.

Blair quickly threw his arms around me to hold me back, but I didn't have any strength to fight back. My short temper that I usually have was extremely weak today.

"What is wrong with you?" Blair asked them in a hushed tone just as shocked as I was.
I didn't even know these people. Were these her parents? They can't be. It just didn't add up. Then again nothing mad sense today-a beautiful young girl tried to kill herself.

"You should've let her die!" The lady exclaimed.

Blair's jaw dropped. He was speechless, and just stared at her with squinted eyes. The man whispered something to the lady. It might've been "Quiet down", because all the people's eyes were on us. Their eyes felt like lasers burning through my skin.

"No" the lady replied to the man, "She is never welcome in our house again after this 'little' stunt"

I don't know what-maybe the little suicidal girl inside me-made me snap. That short temper came back with vengeance. The hand that was holding my cheek fell to my side, my eyes went narrow and I locked my jaw. Blair held me tighter feeling my body temperature rise.

"'Little stunt'?" I repeated, "What type of human are you? This is not 'little' nor a stunt" I pushed through Blair's grasp and stormed to the door, "This is a cry for help! You have to be so simple minded and idiotic to think this is a stunt! And maybe you shouldn't be parenting if you can't see that"

I busted through the doors and screamed on the inside so loud, my body fell limp. A growing pain ran around my stomach.

'The monster in me is awaking' I thought to myself.

Breathing methods, counting methods, and years of therapy could not fix this relapse. They are all bull.

My body hit the hospital wall and slid down. I brought my legs to my stomach. Blair came out looking for me. Not saying anything, he sat next to me and put his arms around me.

"They are talking to the doctor, now" Blair spoke.

"N-no, why...n-no, w-w-we have t-to-" I stuttered, as my head shot up from my knee caps.

"Calm down, we can't do anything, we're just her teachers" He said rubbing my back.

His words echoed inside my head, driving my insane. Just her teacher? We could do so much more. We could save her from herself.
...
Beep. Beep. Beep
Her heart monitor sung a sweet song. It was so relaxing. She slept so peacefully, it brought tears to my eyes. The doctor walked in with her parents. They refused to pay for this room and sued the school. They truly don't understand the word depression.
"She's a demon child" The man spoke, "we are Christians and our family doesn't plan on associating with demonic creatures"
I smiled at their stupidity and looked out the window. The doctor sighed. He rubbed his white beard, then walked over to me and placed a gently hand on my back.
"Do you know a friend or someplace she can go in the morning?" He asked me.
"She can stay with me, until a relative or someone can take her to a stable, understanding, and loving household" I replied.
"You're going to hell" the lady spoke to me.
"And I'll see you there, I'm sure" I replied, looking out the window at the blue moon.
The lady huffed loudly, and stormed out. The man followed closed behind, with his hands in his pockets and head up high.
"You have a lot of heart" the doctor said as he laughed and patted me on the back.
"I just don't want her to think the world is full of bad people" I confessed to him.
He patted my back once more, agreeing with me, and exited the room.
She lay peacefully. I climbed in the chair beside her and drifted into a light sleep.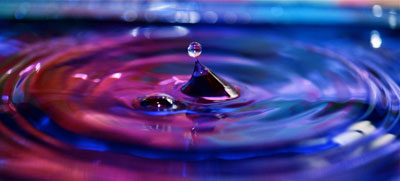 © Haley L., Anchorage, AK