Eyebrows
May 28, 2012
"Ally, what would you think about plucking your eyebrows?" Mom asked.
My hand instinctively went up to touch my eyebrows. "Why?"
"Why not?" She questioned.
"I don't wanna," I said stubbornly.
Mom gave me a look, you know, the kind that says you're being deliberately stubborn just to challenge me.
"Ann, will you come help me?" That was my dad.
"We'll talk about this later," Mom promised.
I didn't want to pluck my eyebrows, that was for sure. And I knew that if I didn't mention it around my mother, she would probably forget it.

I was talking to my friend, Marie, the next day.
"I mean, she wanted to pluck my eyebrows," I said indignantly.
"Oh my gosh, that's so unfair!" Marie said. "I mean, it's just your eyebrows. Who cares?"
"Yeah, I know, right! My mom's so unfair, and plucking hurts!"
"Totally," Marie agreed.
"I mean how could she?" I demanded.

"Okay, c'mon, honey, we're plucking your eyebrows," Mom told me that night.
"Nope, that's okay," I said. I was sitting in the kitchen on a stool, reading a book.
"Yep, let's go, Ally," Mom said determinedly.
"No, really, Mom, that's okay," I told her sweetly.
"Really, Ally, now," Mom said.
I sighed and put down my book. I slumped my way upstairs and into the bathroom where I viewed the tweezers with a look most people reserved for fatal weapons.
Mom looked at me exasperatedly. "I'm just plucking your eyebrows, it's not like I'm beating you!"
I gave her a skeptical look.
"Just come here and let me do your eyebrows," Mom said firmly.
I stood close enough so she could get at my eyebrows.
"Ready?" she asked.
"No," I said automatically.
She yanked out a hair with the tweezers.
"OW!" I yelled. "What the heck, Mom!"
"Ally, I'm just tweezing your eyebrows! It doesn't even hurt that much!" Mom exclaimed. "Come here and let me finish!"
She did another and I whimpered.
"I give up. You can just have a uni-brow, see what I care," Mom said, throwing up her hand in surrender.
"You think I have a uni-brow?" I rushed to the mirror and wailed. "You have to help me!" I cried.
"You don't want me to pluck your eyebrows; I don't know what you expect me to do about it," Mom told me.
"C'mon, there has to be something you can do. Please, Mommy?" I put on my best begging face.
"I guess we could try waxing," Mom said finally. She opened one of the cabinets and took out an orange and white box that said Wax Strips.
She pulled out clear strips that she cut quickly with scissors and then separated into two different strips. They had a thick, clear substance on them.
I looked at them fearfully. "Is it gonna hurt?"
"Just a little," Mom said. "But you wanna get rid of the uni-brow, so let me do it."
She put the strip on my eyebrow, rubbed it on, and yanked it off.
"AHHHHH!" I yelled. "MOM!" I glared at her and in a few seconds the sting disappeared.
"You know, what, babe?" Mom said. "Beauty is pain. Get use to it."
"How's it feel?" Mom asked, trying to suppress a smile.
"You stink," I told her.
"Yeah, yeah, just let me finish, okay?" Mom said.
So I tried to keep quiet and still until she finished. I felt the area in between my eyebrows. There was no hair. I felt the area above my eyebrows. No hair.
"It feels weird," I told her.
"You're welcome," Mom said, rolling her eyes.
"Thanks, Mommy," I told her.
Mom smiled, and left the bathroom.
"I love you, Mommy," I called after her. "Thank you! Mom, thank you! Thank you!"
"Yeah, yeah, whatever!" she joked back.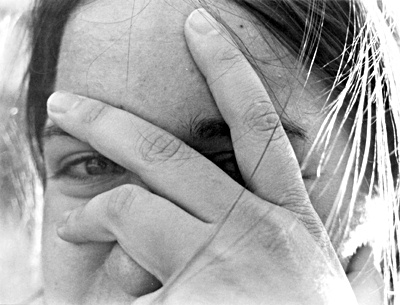 © Claire E., Bethesda, MD