New York Needs To Smile
May 22, 2012
The sky evaporated in the warmth of the sun, melting its way into a typical Sunday morning. I wake with my own heart beating against my own chest. A glare of sun finds its way into my retinas, I rise. New York City is known for being sleepless, worse than Seattle. However I must admit Seattle has us by a mile in medium roast coffee. New York wins in about most everything else though. Aside from fame and solitude, it sits upon a throne of accidental crimes, organized relationships, long hours, short breaks, doll sized apartments, and skyscrapers that barely nick the clouds of heaven. For such an amazing place this city lacks in one thing; good souls. You would think that September 11th would have changed everything. No doubt that heaven had gained a few hundred angels that day, but since that day everyone walks around argus-eyed. What is there to fear anymore other than us?

I had no motivation to move this morning, but for whatever reason my body decided it was a good idea to do so. Stubbornly, I gave in. No one was here to make me hotcakes and sausage, let alone pour me a cup of coffee. It's been years since I had a hotcake. I remember waking up to the smells of Sunday morning as a kid. The delectable smell of maple sausage has been branded in my mind since I was 5. Coffee became my nostalgic medicine; my father drank coffee like an Irish man drank beer! Plus there is no choice but to drink it when the first thing you see around every corner is a Starbucks.

Central Park was busy this morning, a sarcastic surprise. I ambled my way around, steering clear of aggressive joggers and impatient walkers. Finding it impossible to make eye contact with anyone who passed me, everyone seems to be looking down when they pass a stranger. I only know this because I look up as I walk. The park always seems to have its fair share of dogs. Most of them are trimmed, leashed, and loyal. My favorite dogs are the kind that has to be chased; I find pleasure in helping with the chase. It's a shame that the only way to get a smile out of anyone these days is by saving his or her dog from becoming a windshield ornament of a taxi cab. I wonder if there is an even ratio of dogs to cabs in the city.

I avoid the subway systems. Haven't ridden one in 10 years, which is atypical for most anyone is a metropolis. If it's not by foot, then it's by bus, Metro bus. Taxis are far too pricey for a part time journalist. I live on a budget. My wardrobe is nothing special, I have 5 pairs of shoes, and I do not carry with me a purse. People these days are difficult to trust.

Noon: church lets out, blinds drawn, the latest sleeper rises. I continue my Sunday routine by foot, ankle express. Two blocks to the church, vacant at the hour. I've noticed that with every church come two tall doors, a few half melted candles, and an endless supply of red wine. I never found the taste of wine satisfying. It burns as it goes down my throat. As a child religion never found me, and both my parent were atheist. I have gone through a lot in the past two years. The death of my father, the chosen death of my mother, following that I had an exorcism or what I perceive was an exorcism. When your world is spinning out of control, its hard to tell the difference between what's evil and what seems to be bad karma.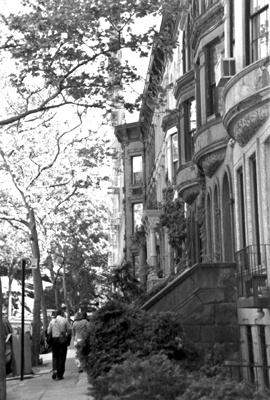 © Sarah M., Phoenix, AZ