Almost Perfect
May 22, 2012
We met at a friend's house. He seemed nice. And he wasn't totally repulsive looking. But most importantly, I could tell he liked me back. I have neurofibromatosis. I'm not even going to attempt to tell you what it means. Just know that, well, it's not a good thing. I didn't tell him about it. I figured it was too soon. The only problem was that he wanted to meet at the mall that weekend and I wasn't allowed to drive due to my common seizures that occurred last year. And he was a year younger than me, not having his license either. So like all the cool kids we had our parents drive us there. After getting over being embarrassed about having my dad, known to most of the town as preacher, drive me for a date. We raced over to all the different little shops. We finally sat down in between some dusty bookshelves in an old bookstore, trying to catch our breath. He said something about his leg hurting. In between our giggles he looked me in the eyes. A deep and powerful look. A look that would have made my knees weak if I had been standing up. I could tell he wanted to kiss me. and I knew somehow that I would kiss him back. So finally when he was least expecting it, I kissed him. Well, he sure was not expecting it. Our noses slammed together with a not so good sound,

"Well that was awkward." I said as I burst out laughing. He lightly chuckled, taking my head lightly in his hand. And he kissed me. just like that. It was my first kiss. There were no fireworks, no bells, no sparks. It was a simple kiss with a simple guy. And for some reason, that was okay with me. I hardly knew him and he really didn't know a thing about me. he didn't know that I couldn't eat chocolate or cheese. He didn't know that I could only eat vegetables and nasty fake chicken. He didn't know about all my medication and about how the EMS had to stop by my school at least once a week because of my seizures. I was just a girl. He was just a boy. And I was just fine with that.
*************************************************************************************
We met a friend's house. She was cute in a not so obvious way. She was funny. But most importantly, I could tell she liked me. I had a prosthetic leg. A few years back I had cancer, my real leg had to be removed immediately. You don't understand how painful that whole ordeal was. And I'd rather not get into it. I didn't tell her about it. I figured it was too soon. We met at the mall one weekend. She was embarrassed about having her dad take her. I was used to not driving. We had fun. She liked to run which wore me out a bit, but I didn't want her to know anything was wrong. I finally got her to sit down at one of my favorite book stores. The only problem I had with her was that she would never shut up. She was always talking. Finally I just stared at her, waiting for her dumb story to me over. Then she got a weird look on her face, a smile creeping up across her features. She quickly banged her face against me own. Then she started laughing, mumbling about something being awkward.
I took her face in my hands and lightly placed my lips on hers. Not many girls go for the guy with only one leg. I guess it is something of a turn off. But I didn't want that moment to end. The silence; the sweetness of it. It wasn't the best kiss of my life. I didn't want to jump her right there in the middle of the mall. It was…pleasant. The best part was that she knew nothing about me. I really didn't know much about her. She didn't know about the cancer. About my leg. I was just a boy. She was just a girl. And I was just fine with that.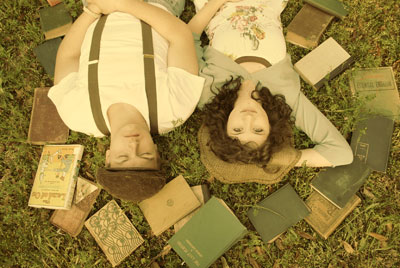 © Gabrielle A., Pensacola, FL