Mirror Image
May 6, 2012
My head is clear, my thoughts calm; my body so serene, it drifts into impassiveness. If only I could keep it this way. My fingers race across the keyboard at an unusual rate, the words forming on the page, only to be erased with a single touch of one key. My fingers come to a halt, resting in my ambiguity.

This seemed seemed so simple, so reasonable—writing this letter--but now that thought has converted to action, stalling appears the only option worth exploring.

I will never know what your face expresses when you read this; optimism or disapproval? Is there even a difference if the outcome won't change anything? I am unable to judge; challenging, due to a life based in inferences. Inferences established on old knowledge, the foundation of my opinions weathered and eroded. The truth was always uncertain, and forever will be.

I have no memories of you; have never seen your face. There once were pictures, but they are long gone now, discarded by the pain of regret. All that could have been was lost before anyone saw it coming, a stealth cloaked in silence so flamboyant it remained invisible.

They say you have green eyes, not unlike my own. I hear stories of how those green eyes would sparkle and change in the light. Your long, curly midnight-black hair bounced as you shook your head and laughed, a shimmering charm that escaped from your lips. Those lips that emitted a beautiful voice that could sing in such a striking harmony, onlookers swore they had entered an idyllic heaven. With each new piece of the puzzle, I wish more and more that I could reach you; I would like to experience the soft caress of your song.

Rumours have spread faster than the fire in my heart, upon hearing shameful secrets, much unlike the blissful details I'd grown accustomed to understanding. Specific facts, expressed in confidence, were twisted and wringed of all certainty, leaving nothing but lies and deceit to be perceived.

Ancient gossip can be re-kindled at the mention of one word; new stories can be generated from an individual mind bearing no discretion. These people speak anything at will, rarely giving it a second thought, never stopping to see how much it hurts.

All of my years, I have been alone, my father distancing himself from everyone; an attempt to prevent another tragedy he cannot bear to experience, for this time, he may not recover. I am afraid to ask, however, I believe I look too much like you, a mirror image; my father is ready to take the first swing to break the glass. The black hidden behind the reflection is less painful when enveloped into the shadows.

My father lives in the garage, reminiscing about better days and times of delight. He cleans his trophies: three gold, three silver, one bronze, and one participation medal, strung on a green ribbon. He keeps the medal hung highest on the wall, and freshly polished with tender loving care. He says the medal is worth ten times the golden trophies, because he learned more from a single mistake than all of his victories. I have never deciphered what those trophies are from, and I have ceased asking. Nevertheless, I know he used to be great.

I draw my eyes away from the keyboard and glance at the computer screen to find I have typed everything I have thought and played over in my head, in my effort to procrastinate. My stomach flips at the thought that I didn't have to work at all to write this letter. How could it turn out perfect in one try? We certainly didn't. Hesitantly, I place my hand over the mouse, covering it completely. I watch as the arrow climbs to the top of the page, and before I can change my mind, I click send.

I drop my eyes back down to the keyboard. I smile, and silently pray that for the first time in my life, you will answer me.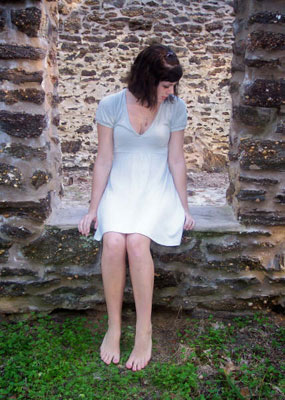 © Katie S., Vineland, NJ